New 2022 Jeep Renegade unveiled in Brazil ahead of UK launch
Jeep has revealed the South American version of its facelifted Renegade crossover, with tweaked styling and an upgraded interior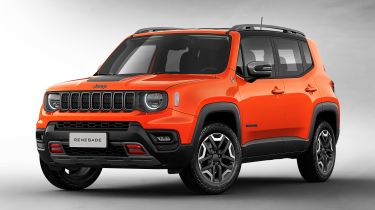 The revised Jeep Renegade is set to launch in the UK this year, but ahead of its European release, Jeep has revealed the new car to the Brazilian market, giving a preview of what UK customers can expect.
Images from Jeep Brazil indicate that the design of the new model won't be a significant departure from that of the current car, save for some detail changes. 
At the front, the new Renegade will adopt a new front bumper, featuring chunkier plastic body protection with grey and red accents, along with a more neatly integrated sidelight arrangement. The overall look is similar to before, but the Renegade's front grille is entirely new, with a narrower design and air vents that cut into the car's bodywork. The car in these images also has a matte black bonnet stripe, although this will be optional. 
The alloy wheels are also new, and we expect a selection of different designs to be available when the car lands in the UK. Elsewhere, the mirror caps receive a two-tone design, and the rear bumper gets the same grey, red and black colour scheme as the front. The tail light clusters have also been restyled.
Inside, the facelifted Renegade will feature a new steering wheel and a digital instrument panel. The infotainment display looks to be the same 8.4-inch touchscreen fitted to the current car, although it could be equipped with improved software. The rest of the cabin is largely unchanged, save for the addition of a USB-C port on the dashboard, although a range of new trim and upholstery options are likely.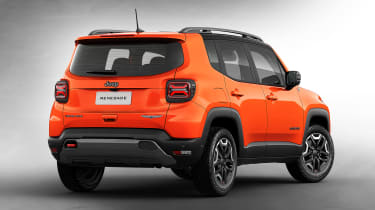 Mechanically, the big change comes in the form of a new 1.3-litre Turboflex petrol engine, serving as the effective replacement for the 1.3-litre 178bhp engine that was discontinued for the Renegade. The Turboflex unit will produce similar power figures, and will probably sit alongside the existing engine line-up, consisting of a 1.0-litre three-cylinder petrol motor, a 148bhp 1.3-litre unit and a 4xe plug-in hybrid variant. The three-cylinder and 148bhp 1.3-litre options will be front-wheel-drive only, and a dual-clutch automatic gearbox will be optional. 
We expect the facelifted Renegade to arrive in the UK this year, with similar pricing to the current model which starts at a touch more than £23,000.
Check out the latest on Jeep's new baby SUV here...