How to service your TD4 Freelander 2
Trevor Cuthbert explains how to service a diesel Freelander 2
The 2.2-litre Freelander 2 TD4 diesel has been manufactured since 2006 and, at time of writing, remains a current model in the Land Rover line up. It should be serviced every 15,000 miles or twelve months, whichever comes sooner. The A-service should take place at 15,000 miles or every 12 months, and the B-service at 30,000 miles or every 24 months. The Freelander in this feature is two years old with just over 20,000 miles on the clock, and it was booked into BLRC's workshop for a B-service. The BLRC technician assigned to carry out this service was Dee Downey. 
The first thing Dee did before even taking the Freelander 2 into the workshop, was to give it a short test drive to check for undue noises and driving symptoms. Brake squeal, which can be quite common, and a defective rear differential would immediately make themselves heard on a short test drive. On this Freelander there were no issues – the vehicle was quiet and smooth, as would be expected from a modern low mileage model. Back in the workshop, the B-service began with checks on the lights and screen wipers. 
The Freelander B-service was carried out completely by the book, with all items on the official Land Rover schedule carefully checked off. Dee gave a lot of attention to preventing future possible problems, such as by carefully cleaning off the brake pipes and spraying them with wax (especially around the clips) to help prevent corrosion, and spraying water-repellent penetrating oil into the tow sockets. Finally, the vehicle was test driven for up to 15 minutes and several miles to confirm all was well. The Freelander 2 performed very impressively and drove just as would be expected – quiet, sure footed with plenty of power and torque.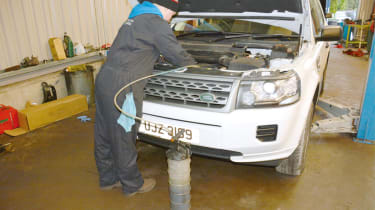 DIY approach
Although we're following a professional service here, servicing a Freelander 2 is a job that can be done by most owners, as we will see while following through this service. Of course, it's always necessary to understand what is being done and to know how to keep an eye open for developing problems while carrying out the service routine, and to follow the schedules and the servicing procedures in a workshop manual. You will also need  an inexpensive electronic tool (Lynx or Hawkeye, for example) to reset the car's service indicator, unless a local garage will do it for you. And in the case of the more extensive B-service schedule, a hand pump and connecting pipes will be needed to draw fuel through the system after changing the fuel filter, to ensure that all air is expelled from the circuit.
Tools: Oil drainer, vacuum pump, flexible head ratchet, 27mm socket wrench, general workshop tools, workshop manual for DIY serviceTime: 3.5 hoursCost: From £252
Health and safety
• Used engine oil is carcinogenic so wear protective gloves.• Ensure raised vehicles are completely secure when working around or underneath them.• Dispose of used oils and filters in an environmentally friendly manner.• Consider wearing a bump cap when working with vehicles on the ramp.• Before disconnecting the fuel filter pipe, allow the engine to fully cool. Ensure fuel pressure has fallen. Wear face/eye protection whenever releasing fuel connections.• Do not release the coolant cap until the engine and coolant has fully cooled. Always be cautious of residual pressure.