Mazda 2 1.5D - Best diesels
Most superminis are compromised by the addition of a heavy diesel engine, but the Mazda 2 wears it well and remains a fun, good value car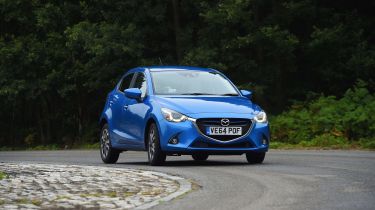 With most petrol superminis, the diesel option (if it even exists) is a lowly sibling - unrefined, heavy, and generally a poor choice. In the Mazda 2 though, it's a brilliant engine that goes perfectly with the rest of the car.
The 1.5-litre SKYACTIV-D diesel engine is only available in one state of tune - so it packs 105bhp, mated to a six-speed manual gearbox. The lightness of the car pays dividends - it's still nimble despite the heavier engine up front, and the combination will return 83.1mpg on the official EU test cycle with a tax-busting 89g/km of CO2.
It's a refined engine, too, with a linear power delivery that's rare in diesels. It revs smoothly right up to the limit, and in-gear performance is as strong as you'd hope.
The 2's update has endowed it with Mazda's 'family face' which looks great, and the interior is even better - slickly designed, well equipped, and spacious enough. Quality isn't good enough to bother the VW Polo but it's up there with the rest of the class.
The Mazda 2 is the best-handling supermini this side of a Ford Fiesta, and it rides pretty well too. When fitted with the economical diesel engine, it's just a brilliant car.
Best diesel cars 2016