Best Crossover: Mazda CX-5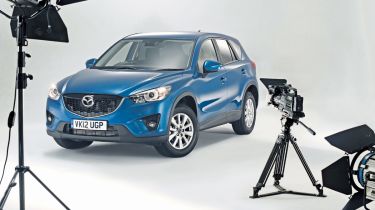 Why it won...
You can judge the talent of our award winners by looking at the cars they've beaten to reach the top spot – and the Mazda CX-5 has overcome the toughest opposition imaginable. The Skoda Yeti was our overall Car of the Year in 2010 and is a brilliant crossover, while the Audi Q3 is a ruthlessly capable prestige choice.
Even so, our judges simply couldn't ignore the new Mazda when it came to naming our class leader. Crossover models are designed to provide all of the advantages of an SUV or off-roader with none of the compromises, and the CX-5 does this brilliantly thanks to its efficiency-boosting SkyActiv technology. It delivers the kind of fuel-sipping economy and low CO2 emissions we expect to see from a small family hatchback, rather than a tall-riding crossover.
This ensures the Mazda is a brilliant choice for private buyers and company car drivers, while the quality interior, stylish looks and tidy handling all guarantee it a place on our crossover shortlist. The massive 503-litre boot and spacious back seats also make it a perfect family car – the latter are split 40:20:40 for added versatility.
You can even detect some of the sporty MX-5's DNA in the way the CX-5 drives, as its rifle-bolt gearshift and accurate steering wouldn't feel out of place in a racy two-seater.
Customers can choose from two and four-wheel-drive versions, and manual and automatic transmissions – so, whatever your needs, there's bound to be a CX-5 for you. Factor in Mazda's traditionally solid build quality and strong reliability record and you have an extremely convincing crossover package.
Our choice: 2.2D S-EL (2WD)
Crossover models make most sense in two-wheel-drive form and the CX-5 is no exception. The 2.2D mixes punchy performance with CO2 emissions of just 119g/km and realistic economy of nearly 50mpg.
Commended
Audi Q3
The Q3 is arguably the most accomplished model in the entire Audi range, because it does everything well and very little badly. Its cabin quality, driving dynamics and economy are all deeply impressive, so it's a shame Audi hasn't tried to be a bit more original with the styling.
Skoda Yeti
After two years at the top of the crossover sector, the fantastic Skoda Yeti has finally been knocked off its perch – but it's still a superb family car. Don't be put off by the small size of the 1.2 TSI engine, either; unless you cover higher-than-average mileage it'll be more than up to the task.