Living Up To The Legend
Famed tuning arms draw swords, as Abarth's new 500 meets a Mitsubishi Colt tweaked by acclaimed Ralliart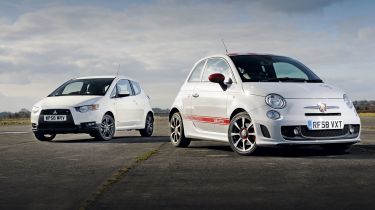 At last – it's the Abarth we've all been waiting for! The Grande Punto version whetted our appetite last year, but fans have been desperate to get their hands on the 500 ever since Fiat confirmed it was to relaunch the scorpion badge.
With a turbocharged 1.4-litre engine producing 135bhp, the newcomer has much more power than its famous ancestors. So, will it make the same kind of impact in the 21st century as the original did in the Sixties? To find out, we've put it head-to-head with a car from another sporty brand on the comeback trail. Mitsubishi's Ralliart tuning arm made its name tweaking the Evos that used to dominate the World Rally Championship. Now, the performance specialist has turned its attention to the revised Colt.
We're already fans of the supermini's new look. The big question is whether it can eclipse the trendy 500 with its racy extras and 147bhp 1.5-litre turbo engine. At £12,049, the Colt Ralliart certainly has price on its side. Let's see how Japanese performance compares with Italian style in the smallest of packages.
Verdict
On paper, this test should be easy to call. The Mitsubishi is faster, more practical and, at £12,049, considerably cheaper than the Abarth. However, cars like this need to appeal to the heart as well as the head, and in this respect the 500 is in a different class. The special feel of its interior and the over-the-top styling tweaks make the Mitsubishi look plain and uninspiring in comparison. Plus, the Colt Ralliart simply isn't good enough to drive to make up for its shortcomings.
While the Abarth is slower against the stopwatch, it's an absolute hoot from behind the wheel, and turns heads everywhere it goes. We've no official predictions, but we also expect its higher price to be offset by strong resale values. So although it's no bargain, the Abarth is a real success and seals a welcome return for the scorpion badge.