Dacia Logan MCV - Best estate cars
The Logan delivers some of the best space-per-pound of any new car on sale today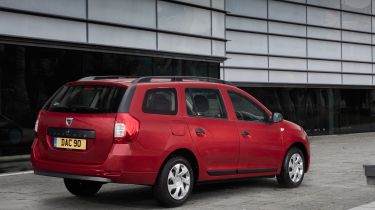 The Dacia Logan is the estate version of the Sandero supermini. And, just like that car, the Logan's bargain-basement pricing strategy means you get a lot of car for your money. The rear end of the Logan has a 573-litre boot, which ranks it alongside some of the compact estates we've listed here, while the back seats fold to create 1,518 litres in two-seater mode.
That's pretty impressive stuff, and with prices starting from well under £8,000, the only way you're going to get as much space at this price is by going to the used market.
It's not all rosy, though. The Logan gets a range of farily weedy petrol engines, so if you're planning on towing or carrying any significant loads, you'll be better off with the 1.5 dCi diesel. Even then, it's a unit that's designed for efficiency rather than absolute pulling power.
And that £8k price tag means you get what you pay for. Basic models are pretty spartan, although splash out on a Laureate or rugged Stepway version, and kit is reasonable for the price.
Best estate cars to buy in 2018
6. Volvo V90
9. Dacia Logan MCV
10. Peugeot 308 SW