Honda Accord Type R 1998-2002
Honda's Accord Type R takes 6th place in our greatest fast Hondas top 10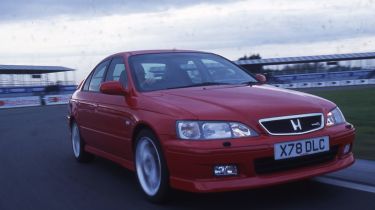 Apart from its oversized rear wing, the Honda Accord Type R was something of a sleeper car. It didn't attract unwanted attention with outrageous styling, but it still packed a mighty punch for a four-door family saloon. The Accord featured a larger 2.2-litre VTEC engine than its Type R stablemates, which delivered extra mid-range torque. This meant, unlike some of the more frenetic hatches that wore Honda's 'R for racing' badge, the performance was more accessible more of the time.
You still had to work the car hard but, as with all Type Rs, Honda's engineers performed a masterpiece in tuning the chassis so it never felt like a chore. The steering relayed messages from the front wheels with clarity, and the sense of expensively engineered mechanicals was palpable.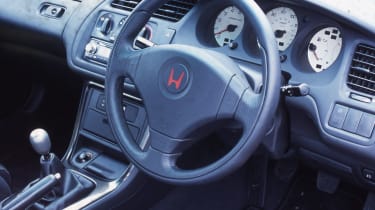 Given the relatively modest 209bhp, its 6.9-second 0-62mph time was impressive, if not class-leading, but it was the way the Accord Type R made you feel and its breadth of ability that was central to its appeal. This was Japan's answer to the BMW M3.
Honda Accord Type R: key specs
Engine: 2.2-litre 4cylPower: 209bhpTorque: 215NmTransmission: Five-speed manual, front-wheel drive0-62mph: 6.9 secondsTop speed: 142mphOn sale: 1998-2002
The all-time best fast Hondas
1. Honda NSX 1990-20052. Honda Civic Type R 2017-date3. Honda Civic Type R 2001-20054. Honda S2000 1999-20095. Honda Integra Type R 1995-20016. Honda Accord Type R 1998-20027. Honda Civic Type R 1997-20008. Honda Civic Type R 2007-20109. Honda CR-X VTEC 1989-199210. Honda S800 1967-1970
Fast Hondas Special