New Hyundai Ioniq 6 N previewed by RN22e concept car
The bold new RN22e concept is set to be a strong influence on future fast electric Hyundais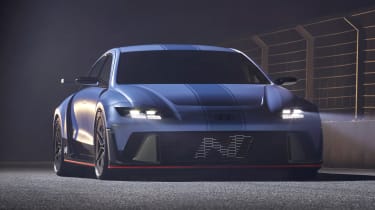 1/10
Hyundai has given us a glimpse of its performance electric car future in the shape of the RN22e concept car. Based on the new Ioniq 6 saloon and pointing the way to a hot Ioniq 6 N production car, the Hyundai RN22e indicates the brand's commitment to fast cars with EV powertrains.
Hyundai refers to the RN22e as 'a glimpse of upcoming EV N', while Thomas Schemera, Hyundai's Executive Vice President and Head of Customer Experience told Auto Express, "RN22e plays a big role in the development of our product line-up, especially our electrified, high-performance vehicles." 
The RN22e's front and rear electric motors produce a combined 569bhp and 740Nm of torque. That could mean a 0-62mph time as low as 3.5 seconds, while the concept also retains the fast-charging capability of the 800V-compatible E-GMP platform.
The RN22e includes a range of technology features to enhance the driving experience. Torque vectoring by twin clutch gives the concept a 'corner carving feel' according to Hyundai. Weight reduction also features with the use of 3D-printed parts, while four-piston monoblock calipers and 400mm hybrid-construction brake discs cater for the extra weight of an EV and regenerative braking to a similar level as on existing N models. The RN22e has been built for track days as well as daily road use.
The concept car also features N Sound+, which is said to up the excitement level by pumping artificial noise through the speakers – it's similar tech to e-ASD, introduced in the new Ioniq 6. There's also N e-shift, which adds vibration and a feel that is intended to replicate that of a gear change.
The RN22e concept is slightly longer, lower and wider than the Ioniq 6 on which it's based. It's around 70mm wider each side than the Ioniq 6 production car to help create that aggressive stance.
Although the Ioniq 5 N has officially been confirmed, there's no word if or when an Ioniq 6 N could go into production. All Thomas Schemera would say is, "Never say never." However, with Hyundai reiterating that its 'rolling labs' are where it 'tests and verifies the company's advanced technologies to apply them to future production models' it would seem only a matter of time before an Ioniq 6 N gets the green light. 
That would also give Hyundai an opportunity to put the 6 N into the all-electric ETCR e-Touring Car World Cup racing series to replace the Veloster N that is currently competing.
Click here for more information on Hyundai's N Vision 74 concept...