Best Roadster: Porsche Boxster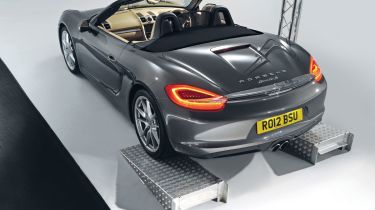 Why it won...
We had high expectations for the new Porsche Boxster, and the desirable two-seater didn't disappoint. Faster, sharper to drive and more efficient than ever, the mid-engined machine goes straight to the top of the roadster pile.
At the heart of its appeal is a beautifully balanced mid-engined chassis and exquisitely weighted controls that serve up unrivalled driver thrills. Point the Boxster down a twisting back road, and you'll have a huge grin plastered on your face from the first corner to the last.
And that's not all, because a pair of new flat-six engines deliver more power than ever, but back up the boost in performance with wallet-friendly running costs – when fitted with the slick-shifting PDK twin-clutch gearbox, the entry-level 261bhp 2.7-litre engine emits just 180g/km of CO2 and promises to return 36.7mpg.
Despite their improved green credentials, the new engines still deliver the same wailing, spine-tingling soundtrack and razor-sharp throttle response.
But there's more to the new Boxster than improved driving dynamics. The soft-top model looks absolutely superb, with more than a hint of the forthcoming 918 supercar in its lines.
And there's a completely overhauled cabin that feels every bit as upmarket as the brand's more expensive models, while the well insulated roof is now easier to operate – the fabric covering can be raised or lowered in just nine seconds, and at speeds of up to 30mph.
Whichever way you look at it, the Boxster is better than ever and fully deserves its place on our list of 2012 winners.
Our choice: Boxster
It's a case of keeping it simple when choosing a Boxster. Yes, the range-topping 3.4-litre S has performance to burn, but the entry-level car has all the pace you'll need, plus the same sublime handling and eye-catching looks.
Commended
BMW Z4
Since its launch nearly three years ago, the BMW Z4 has proven to be a slow burner. It always boasted eye-catching looks, agile handling and a neat folding hard-top, but the recent introduction of powerful and efficient turbocharged engines has finally delivered a much needed injection of pace and desirability.
Mazda MX-5
The Mazda's six-year reign at the top of this category is at an end. However, it's still a brilliant choice, thanks to its engaging rear-drive handling, low price and affordable running costs. Adding to its appeal is a choice of traditional soft-top model or the more secure folding hard-top RC version.