Best Family Car: Skoda Superb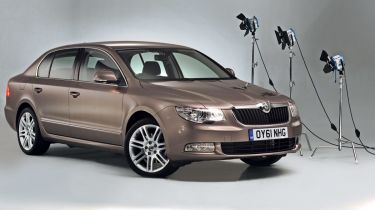 Why it won...
When Skoda chose the Superb name for its family car, it was asking for trouble – but it knew what it was doing, because the big saloon has lived up to it brilliantly. It's still our favourite family car this year, so now has four awards in this category in its bulging trophy cabinet.
What makes the Skoda so good is the effortless way it can turn its hand to almost any task, and that's partly down to its TwinDoor boot. It allows the Superb to operate as either a saloon or a hatchback, which means it swallows large items with ease or allows you to access your luggage without forcing rear passengers to endure a blast of cold air.
There's much more to the Superb than its nifty tailgate, though. Its vast cabin provides the kind of rear legroom usually reserved for luxury saloons, and the 595-litre boot is one of the biggest in its class. So whether you're going on a trip to the local dump or a week-long camping holiday, the Skoda is sure to have enough space.
Mid-range SE models are tremendous value, but we think flagship Elegance trim represents the Skoda at its best; it includes dual-zone climate control, leather upholstery and touchscreen sat-nav as standard.
Whichever model you choose – and the range even includes the option of four-wheel drive – you're guaranteed a high-quality interior, loads of equipment and a driving experience that will shame cars with much higher price tags.
Our choice: 2.0 TDI 140 Elegance
You don't need to spend the £915 premium that Skoda charges for the more powerful 168bhp diesel, as the lower-output engine is easily up to the job. And Elegance trim is comprehensively equipped.
Commended
Ford Mondeo
The Mondeo is still the best family car from behind the wheel. It's also big inside and full of kit, and the latest range of engines is cleaner and more efficient than ever, so the Ford makes financial sense. We just wish it wasn't so wide, because it fills a conventional parking space with little room to spare.
Kia Optima
Space, quality, equipment and style: the new Optima has them all by the bucketload. Large Kias have generally struggled to convince buyers in the past, but it only took a short drive in the new saloon for our judges to realise that the company has finally cracked the family car class.