Volkswagen Golf R - best performance cars
The four-wheel-drive VW Golf R is almost as fast off the line as the Ford Focus RS, but the two cars' characters couldn't be more different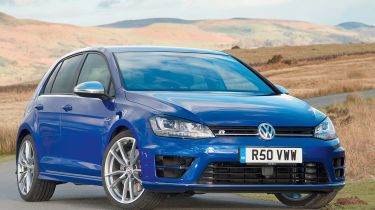 The four-wheel-drive VW Golf R is almost as fast off the line as the Ford Focus RS, but the two cars' characters couldn't be more different.
While the Focus RS is ostentatious and rumbustious, the Golf R is understated to the point of near invisibility. Until one goes past you at warp speed, that is.
When (if) you've caught up again, closer inspection reveals LED rear light clusters and quad exhaust pipes, as well as wider side sills and unique bumpers – and there's even a discreet chrome strip in the grille.
But it's that Q-car invisibility that helps to make the Golf R so much fun. Combined with the 296bhp 2.0-litre turbocharged four-cylinder powerhouse under the bonnet, of course, which has a purposeful growl when revved.
That's almost 60bhp more than the quickest Performance Pack-equipped Golf GTI, and it's enough to catapult the Golf R from 0 to 62mph in a tenth less than five seconds if you have the optional DSG automated gearbox. It's 5.1 seconds with the manual gearbox, and in both cases traction off the line is helped by the car's standard 4MOTION all-wheel-drive, which just digs in when front-wheel drive cars would be floundering.
On the road, the Golf R is similar to a GTI in offering crisp turn-in, good body composure and a comfortable ride. If you really want to travel under the radar, you also buy the Golf R in estate car spec – but the extra weight knocks the 0-62mph time back to 5.9 seconds.
Top 10 best performance cars on sale now