Audi A3 Cabriolet - best convertibles
The A3 Cabrio is based on the saloon, therefore has more space than hatch-based rivals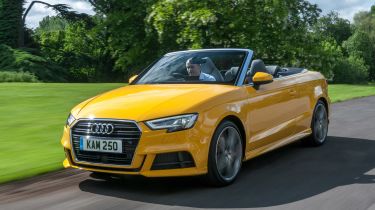 The Audi A3 Cabriolet is one of our favourite convertibles thanks to its sleek proportions, peppy engines and effortless open-top ability. It has faced stiff competition from the BMW 2 Series Convertible in the past, but the small drop-top just had enough to reign supreme over its rival.
While the A3 is beginning to age a little in the firm's range, it still provides sharp steering that gives the chassis an alert feeling. Audi hasn't cut corners in taking the roof off the standard car, either, as the bodyshell feels stiff and composed over bumpy roads with very little shake through the cabin. And despite the A3's big wheels, this is a sporty Audi that, refreshingly, rides with a soft and supple edge.
It boasts clever tricks like a climate control system that remembers settings for when you have the roof up and down, while the minimalist interior is a delightful place to be. And with that powered hood, you can enjoy the wind in your hair at the touch of a button, as the roof will raise or lower in 18 seconds at up to 30mph.
If you need more space that you'd find in the MINI Convertible, this is a great option.
Best convertible cars 2018