Audi A5 Cabriolet - best convertibles
This four-seater convertible is almost as refined as the coupe version with the roof up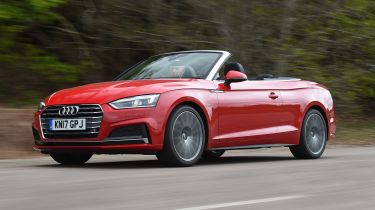 If one company knows a thing or two about classy convertibles, it's Audi. The firm has four drop-tops in its range: the compact A3, the two-seat TT Roadster, the R8 Spyder supercar and this, the A5 Cabriolet.
Like its predecessors, this four-seater focuses on comfort rather than sporty dynamics, although it's the most engaging A5 that Audi has built to date. There's space for four inside, while the multi-layered roof has enough sound deadening to make it nearly as quiet and refined as the A5 Coupe when the roof is up.
The top takes 15 seconds to open with the pull of a single switch, and this can be done at speeds of up to 31mph. It takes a little longer to put back in place, at 18 seconds, but that's still far quicker than the complex metal top of, say, the BMW 4 Series Convertible.
The A5's roof mechanism is lighter, too, which helps to contribute to the current car's improved handling. As before, the A5 is based on a development of the A4's platform, so there are a range of four and six cylinder engines available. The 2.0 TDI is a good choice, because it's not that rattly for a diesel, and has plenty of power. Spec this car with the excellent seven-speed DSG gearbox, and you'll receive a relaxing cruiser.
Best convertible cars 2018