BMW 5 Series - best rear-wheel-drive cars
Executive saloons don't deliver such driver-focused ability as the 5 Series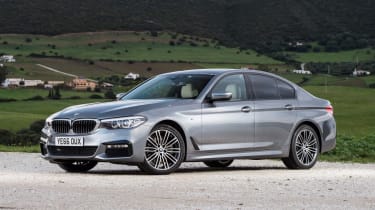 Executive saloons deliver family-friendly space, hushed cruising comfort and luxury like a limousine, but the BMW 5 Series adds some sports car handling into the mix, too. All versions have benefitted from the latest model's weight-saving diet, with carbon fibre used in its construction, while the technology on board isn't to be sniffed at.
As with past versions, the core line-up is still front-engined and rear-wheel drive, although xDrive 4WD is available on more models than ever, including the M5 super saloon. If you want the fastest rear-drive model, then you need to look at the 530i petrol, 530d diesel or 530e plug-in hybrid. All will offer a decent handling balance, although the hybrid model will be a little heavier thanks to the extra drive components, while the standard eight-speed auto will deliver perfect shifts.
But you don't have to go for one of these big-hitters to get an involving drive. The 520d is the staple of the company car park, and it too delivers the kind of sharp handling BMW is famous for. Even better is that you can get this involving handling in practical Touring estate guise, too.