Best used MPVs
The Citroen Grand C4 Picasso is the best used MPV in our Used Car Awards 2020
Best used MPV: Citroen Grand C4 Picasso
Our pick: Citroen Grand C4 Picasso 1.6 BlueHDi VTR+ (2015/65, 57k miles, £7,300)
If maximum space, practicality and economical motoring are your priorities, then you'll find it difficult to look beyond the Citroen Grand C4 Picasso (later renamed the Grand C4 Spacetourer from 2018 onwards). The big Citroen has been a repeat winner in the MPV class of our New Car Awards, and on the used market it's every bit the champion, too.
We've singled out the well specced VTR+ version of the Grand C4 Picasso, using the frugal, but not fast 1.6 BlueHDi diesel engine, developing 99bhp.
Performance isn't crucial in this segment, though. Space for passengers trumps all, and the Grand C4 Picasso can seat seven adults in good comfort. All three seats in the second row can slide and fold independently, and middle-row legroom is superb.
The two rearmost seats are tighter and better suited to children on longer trips, but getting back there is easy thanks to the numerous ways the Citroen's seats slide and stow. You'll find plenty of storage spaces around the cabin, and even 12V sockets in the front and middle rows for charging gadgets.
At the back, the Citroen's vast boot measures 793 litres with the middle row of seats pushed as far forward as possible. Fold all the seats down – which leaves you with a perfectly flat floor – and you get a van-rivalling 2,181 litre volume.
Allied to the comfortable and stylish interior is the Citroen's ride quality. The suspension is soft and there's plenty of body roll in bends, but elsewhere it rides smoothly, while the 1.6-litre diesel unit is a refined performer. The Grand C4 Picasso is a relaxing car to drive – and that's important for family motoring.
Finance options
£24 per seat, per month. That's how little this Grand C4 Picasso could cost on a three-year PCP finance contract through BuyaCar.co.uk, with a nicely affordable deposit of just £900. Monthly payments of £167 aren't much for such a large MPV, although if you want to own the car when the contract ends, you'll need to pay a further £4,368 once you've made that last monthly payment.
Commended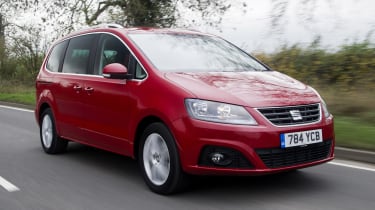 As with the Citroen, the Alhambra is another MPV that maxes out on interior space and functionality, but it lacks the design flair of the Citroen. In return, however, are solid Volkswagen Group underpinnings and engines, with 2.0 TDI versions available for similar money to the relatively underpowered Citroen.
Left-field choice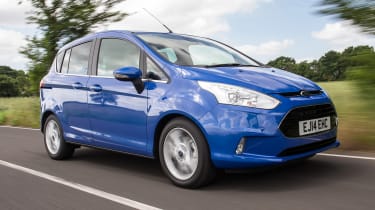 The B-MAX belongs to a smaller group of MPVs compared with the Citroen and the SEAT. What makes it stand out are its sliding rear doors and lack of B-pillars, which makes access to the cabin incredibly easy. Low-mileage 15 and 16-plate cars in mid-spec Zetec trim are available from £7,000