Dacia cars: what is the secret of their success?
Cut-price car brand Dacia was a sales sensation in the UK last year. We headed to Romania to find out the secrets behind its success
In 2013, its first year of full sales back in the UK, Dacia registered a total of 17,146 cars. That figure eclipsed more mainstream rivals like Jaguar and Alfa Romeo. But how did a relatively unknown manufacturer from the one of the strictest former Eastern Bloc countries – Romania – pull off such a successful assault on the UK car market?
To get a proper understanding of the progression of Dacia, we headed to Bucharest – Romania's capital city – to see how far things have come for the brand, from the design of its cars right through to their manufacturing and testing.
Dacia: a brief history
Dacia started life in 1966 under the moniker of Uzina de Autoturisme Pitesti (UAP). And its first car wasn't an in-house new model, but a Renault 8 produced under licence called the Dacia 1100. From 1968 to 1972, just 44,000 were made. By 1969, this was joined by the Dacia 1300.
Again, it was a copy of another Renault – this time the Renault 12. It had a lengthy lifespan, being built right up to 2004, with some design tweaks and modernisation along the way, of course. But while production was steady and numbers were good, under Nicolae Ceausescu, Romania was one of the most Stalinist police states in the Eastern Bloc.
The legacy of this era lives on, with huge, opulent buildings now sitting largely empty in the centre of Bucharest. Under such a strict regime, the Dacia brand was suffocated somewhat, as the communist regime discouraged innovation. This meant cars were rarely updated. And this had an effect on the relationship with Renault, which cut any ties to the company, with poor safety standards in Dacias also a worry for the French firm.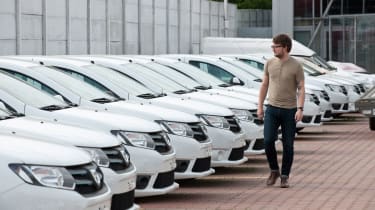 Despite the tight state controls, Dacias were being exported to countries including the UK during this time. But as the cars slipped behind the standards of other brands, they were largely forgotten about and sales plummeted.
Things started to change when Renault bought a controlling stake in 1999 and set about transforming the brand into what it is today. And our journey begins at Dacia's relatively new design studios – perhaps one of the best examples of just how more modern and European-thinking the brand has become.
Dacia: designed and built in Romania
Opened in 2007, in the heart of Bucharest, the design studio is part of a network of design centres within the Renault Group, and is a thoroughly international affair. Heading the centre up is British designer Geoff Gardiner. "There are a total of 24 people working at the centre from all over the world," Gardiner explains. "We have designers from Bulgaria and India, but also from Romania."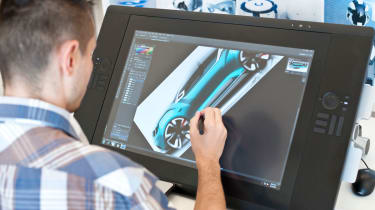 The development of homegrown talent is still key to the Dacia brand, with the company establishing relationships with nearby design schools. And despite the clear forward step in bringing Bucharest into line with Renault's global vision, Gardiner is under no illusions about what Dacia still stands for. "You get a lot from your money from Dacias," he says. "They are robust, with a Germanic feel."
Also working at the centre is Xavier Francois Lescourret, whose department is in charge of the perceived quality of the cars. "We are pleased with the new models," he tells us. "They now have the perceived quality of some Skodas or lower VWs."
But there is still some satisfaction in the earlier Dacia models, too. Lescourret continues: "They were right for the markets and we then made modifications in order for the newer cars to fit in other markets."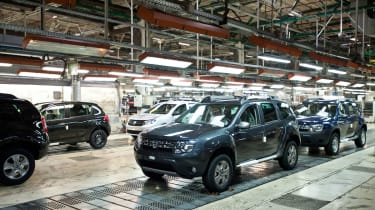 This combination of value for money, but adapting cars to suit individual markets, has seen sales grow from 23,000 back in 2004 to an impressive 430,000 in 2013. The manufacturing numbers are even more impressive. The factory in Mioveni produced 342,620 vehicles in 2013, and it has the capacity to build 1,390 a day – that's a car every 55 seconds.
Continue to page 2 and find out more about Dacia's success story...