Ferrari 812 Superfast - best rear-wheel-drive cars
Latest front-engined V12 supercar is a 200mph+ powerhouse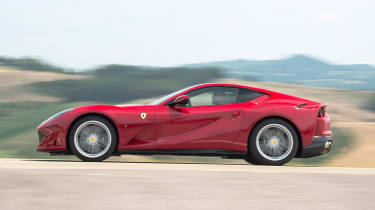 Many of Ferrari's greatest hits have been front-engined and rear-wheel drive, and the latest 812 Superfast gives a nod to its ancestors, as Superfast is a name from Ferrari's back catalogue.
This is the successor to the F12berlinetta, and it has the biggest V12 naturally aspirated ever fitted to a Ferrari road car, and it packs a massive 789bhp, making it the most powerful naturally aspirated engine ever made. This gives the Superfast a 0-62mph time of 2.9 seconds, aided by standard-fit launch control and a paddleshift gearbox with plenty of F1-inspired technology on board. Top speed is 221mph.
With the big V12 set well back in the chassis, and the two seats almsot in line with the back wheels, this is all about rear-wheel traction. Putting all the weight back like this boosts grip, meaning that 0-62mph should be entirely achievable, although possibly not in the wet.