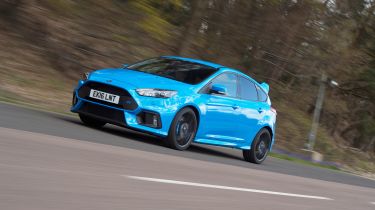 Price: £31,000Engine: 2.3-litre 4cyl turboPower: 345bhpTorque: 440Nm0-62mph: 4.7 secondsTop speed: 165mph
The Ford Focus ST delivers a lot of bang for your buck. Sure, it's a bit unruly, with its rabid turbocharged 4cyl barking away and occasional torque squirm on bumpy roads, but that only adds to the fun. And it's easy to forgive these flaws when you factor in the Ford's sharp handling and bargain price. Even better, its every bit as practical as a standard Focus, meaning this is a performance car you can live with day to day.
But sometimes, you need a little extra, and that's when the Focus RS roars in. Designed to offer pretty much unbeatable performance on a typical British B road, it uses a Cosworth-modded four-cylinder motor from the Ford Mustang to do just that. With four-wheel-drive and a high performance suspension set-up, the Focus RS is one of the best-handling fast Fords ever – and it costs significantly less than the Mercedes-AMG A 45 and Audi RS3 to boot.