Jaguar XE - best rear-wheel-drive cars
Compact saloon is light, fun to drive and easy on the wallet, too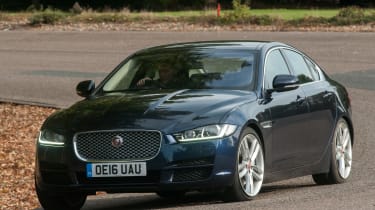 In the compact executive saloon class, it's easy to plump for the BMW 3 Series if you want entertaining rear-drive handling. But the Jaguar XE manages to match the BMW in almost every area, while delivering marginally better running costs, an all-important factor for company car users.
Aluminium construction contributes to its light weight that boosts the car's handling, while all models with rear-wheel drive are entertaining on a twisty road. But they're also comfortable when you're taking it easy, while the Ingenium petrol and diesel engines deliver a great mix of performance and economy.
At the moment the V6S is the fastest model, although the limited run and rather insane SV Project 8 gives some clues to how a super-sports flagship could top the range. However, the Project 8 is four-wheel drive, and that layout could well find its way on to any potential XE flagship.