Lexus LS - best luxury cars
The big hybrid Lexus LS might not quite have the class of rivals but it's utterly relaxing to drive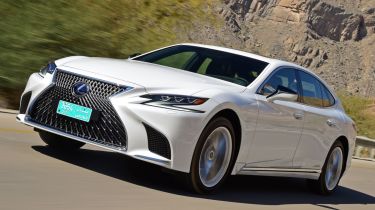 Few premium brands can boast as much hi-tech hybrid heritage as Lexus. The company launched its first petrol-electric model in 2005, and the flagship LS was the first limousine to get this innovative powerplant. A new model has kept the vast four-door looking fresh, while range-topping Premier AWD models come loaded with standard equipment.
The luxuriously refined Lexus LS is available with only one powertrain, a 354bhp 3.5-litre V6 petrol-electric hybrid. Coupled to this is a 10-speed CVT transmission, which if you have a loose understanding of how a CVT 'box works may sound a little odd, but nonetheless Lexus has combined a traditional automatic gearbox and CVT in the LS.
Compared to the Mercedes S-Class the LS is a step behind in terms of cabin quality, with plastics still being part of the user interface inside the cabin, unlike the Merc. However, one of the best things about the new LS is that it has broken away from imitating the German opposition and is carving out its own appeal with a very different approach to what a luxury limousine cabin should be like.
Motorway cruising is excellent, as the interior is whisper quiet, and the air-suspension absorbs every bump in the road. In town, again the Lexus is extremely quiet, although more bumps can be felt in the cabin.
The interior is hugely comfortable, though, with lots of room for two in the back in the electric massage seats, plus a rear entertainment system to keep passengers occupied.
Top 10 best luxury cars