Mazda MX-5 - best rear-wheel-drive cars
It's a roadster that channels the best of British sports cars, and the MX-5 is in a class of its own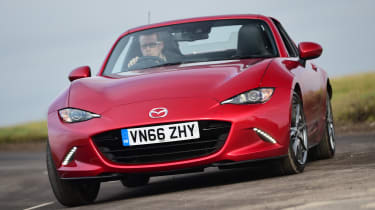 It's been on sale for almost 30 years, and the Mazda MX-5 has stuck with a traditional front-engined, rear-wheel-drive layout to deliver pure driving thrills that few cars can match for the price. The Mk4 benefitted from Mazda's current Skyactiv philosophy of adding lightness to boost efficiency and in turn driving fun, although it's not like the last MX-5 was a big bloater in the first place.
With a low-slung driving position, high-set gearlever and direct steering, the MX-5 puts you at the heart of the action, and it's great fun to make the most of its handling balance on twisty roads, where it delivers fun in small doses.
The Mk4 is smaller than before, but it's still a pretty practical two-seater that you can use on a daily basis, while the folding hard top-equipped MX-5 RF adds some coupe-like refinement to the mix. We still like the fully-open roof of the soft top, though, and if you go for the smaller 1.5-litre petrol engine over the 2.0-litre, you'll still get a fun handling sports car but for a lower price. The MX-5 really is all the sports car you'll ever need.