Best Coupe: Peugeot RCZ
Peugeot is back with a bang this year – although it never really went away.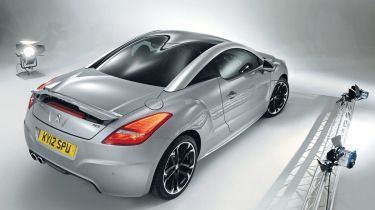 Why it won...
Peugeot is back with a bang this year – although it never really went away. The 208 supermini will steal the limelight for knocking  the Ford Fiesta off its throne as best supermini, but 2012 sees the RCZ secure a hat-trick of trophies as it continues to reign supreme as our number one choice in the coupe class.
Undoubtedly the Peugeot's biggest selling point is the way it looks. Time still hasn't taken its toll on the unique double-bubble roof and distinctive contrasting windscreen pillars that hit UK showrooms in 2010. The intervening two-and-a-half years have seen a raft of fresh rivals for the RCZ to contend with, but it's still the best coupe around.
Thankfully, the pretty Peugeot is also a supermodel on the open road as well as the high street. The talented chassis serves up agile handling and reassuring grip, and it's sure to put a smile on your face on twisty roads. Engine options range from an efficient diesel to a potent 200bhp turbocharged petrol, and it's practical, too, with a large boot and a pair of, admittedly small, back seats.
As you'd expect from a car in such a fashion-conscious corner of the market, buyers can customise the Peugeot with a range of accessories and exterior finishes. However, its prices are more Marks and Spencer than Harvey Nichols, so the RCZ is much more affordable than its catwalk curves suggest.
Our choice: GT 200THP
The 200THP is not only the most powerful engine in the range – it also gets a short-throw gearshift, uprated brakes and chassis tweaks for improved handling. Combined with those gorgeous looks, it's the best way to enjoy the RCZ experience.
Commended
Audi TT
Age hasn't dimmed the appeal of the Audi TT – and the addition of the 1.8-litre TFSI model has given it a new lease of life. Lively performance, beautifully balanced handling and attractive prices all help to make it the pick of the range.
Bentley Continental GT V8
The revised Bentley GT finally got the engine it deserved this year – and what a transformation it made. With a better soundtrack than the W12, plus thumping performance and effortless refinement, the Continental GT V8 is a brilliant Bentley. It's also cleaner and more efficient than ever.