Best used estate cars
The Skoda Superb Estate is the best used estate car in our Used Car Awards 2020
Best used estate car: Skoda Superb Estate
Our pick: Skoda Superb Estate 2.0 TDI SE Business (2016/65, 44k miles, £12,489)
Most people buy an estate for its carrying capacity, so it makes sense to buy the biggest car that you can afford. And when it comes to the price-to-space ratio, nothing can beat the Skoda Superb Estate. The current model came out in 2015, and it remains one of our favourite cars available at any price.
It's popular with owners, too. In the 2020 Driver Power ownership survey, the Superb claimed 10th place out of 75 cars, with owners praising its child-friendly features, infotainment, running costs and rear-seat legroom in particular.
There are a large number of Superb Estates available used, starting at around £5,500 for a high-mileage 1.6 TDI, but we think the 148bhp 2.0 TDI combined with SE Business trim is the sweet spot. That brings kit you'll like, such as an electric driver's seat, part-leather trim and sat-nav. But no Superb, entry-level S model aside, is spartan inside.
For sheer practicality, nothing else comes even close. There's an almost comical amount of legroom for passengers, and the boot measures 660 litres seats-up, or 1,950 litres with them folded, something that can be done at the pull of a well placed lever. The front passenger seat back folds to allow the loading of long items, while there are a range of the Simply Clever features that Skoda has become famous for: a removable LED torch in the boot, umbrellas in the front doors, and even some dimples in the cup holders to allow a bottle to be opened one-handed.
Few would describe the Superb as sporty, but it's all the better for it, with a supple ride that makes the best of Britain's scrappy tarmac. That said, the steering is precise and noise insulation is first-rate.
Finance options
If you want maximum boot space per pound per month, the Superb Estate rules supreme. Monthly payments of £216 with a £1,300 deposit could get you this model on BuyaCar.co.uk. That's over £20 per month less than the most affordable new Fiesta. As with all PCP finance deals, remember you need to pay the optional final payment to own the car at the end of the contract – that's £6,504 here.
Commended
Mercedes E-Class Mk4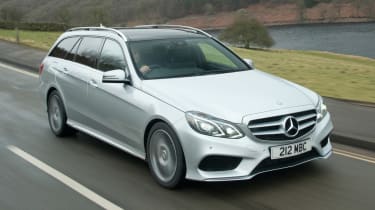 If you're after the load-carrying of the Superb, but with an upmarket badge, it's impossible to look beyond the fourth-generation E-Class Estate. The interior is spacious, and the car looks and feels built to last. The 2.1-litre diesels are a little gruff, but are punchy and economical, making the E 220 d our pick.
Left-field choice
Subaru Legacy Tourer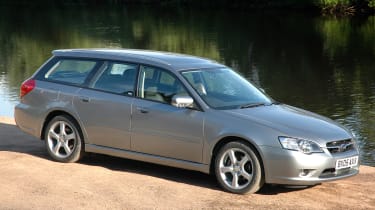 Subaru has traditionally placed engineering integrity above everything else, something that's highlighted superbly in the Legacy. Estate models are huge and are four-wheel drive only. Diesels aren't as pleasing as the thirstier petrols, but the 3.0-litre flat six is remarkably smooth