Toyota GT 86 - best rear-wheel-drive cars
Toyota;s RWD hero always raises a smile.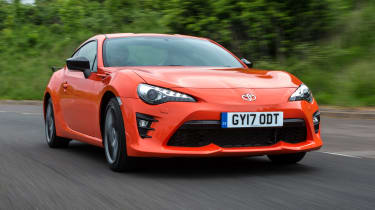 The Toyota GT86 - and its sister model, the Subaru BRZ - reinvented the compact sports coupe class when it arrived in 2012. With its modest 200bhp boxer four-cylinder engine, skinny Toyota Prius-sourced tyres and rear-wheel-drive chassis, it was designed to deliver handling thrills at a more manageable pace than faster and grippier rivals.
The name is a mix of the GT from the classic 2000GT sports car, and the 86 from the Corolla FT86 coupe of the 1980s, and it shared its styling and rear-drive handling philosophy with these two cars. Light weight means the modest power output of the 2.0-litre engine copes easily, although you need to give the car some serious revs to get going. The six-speed manual gearbox has a rifle-bolt action as each cog slots in, and the thrum from the engine encourages you to push it harder.
Add in a 2+2 seating layout (the rears are only really big enough for kids) and it's a pretty practical coupe, too. And if you're a track day enthusiast, then Toyota designed the car to be able to fit a set of four extra wheels and tyres in the back to swap onto for circuit fun.