Best used vans
Sometimes used vans offer a cheap and practical alternative brand new commercial vehicles. We pick the best used van choices in each sector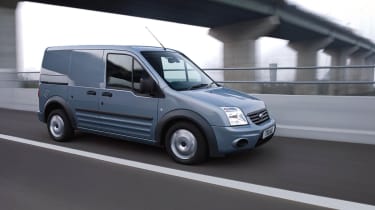 Running a fleet of vans can be an expensive business. While drivers and fuel are among the biggest ongoing cost factors, the purchase of the vehicle itself will always play a major part in the total cost of ownership equation.
For many companies, working locally with low annual mileages, the used van market continues to offer big savings over new metal. With the new van market booming, there has finally been a steady flow of good used LCVs into auction rooms and onto used van forecourts too.
Don't expect massive bargains however. Average values for used vans hit record levels in May 2014, the fifth time that records have been set in the last six months. While there are more fleet and ex-lease vans coming to the market, high quality one-owner LCVs, particularly those with a good specification, remain in short supply.
Best used compact vans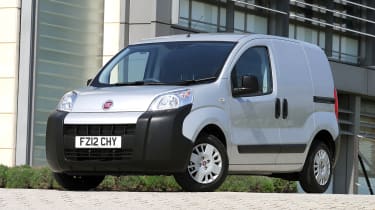 The used compact van market can be split into two types, car-derived models such as Ford's Fiesta Van, the Vauxhall Corsavan and Fiat's Punto Van, and high cube LCVs such as Fiat's Fiorino, Citroen's Nemo and the Peugeot Bipper (the last three being basically the same vehicle).
Car-derived models offer the most comfort and the potential for a higher specification. The downside being that they carry less than the high cube models, in both weight and load volume. In all cases small vans tend to be used locally, so should not have recorded sky high mileages.
All will offer reasonable performance with good fuel economy, expect to be well into the 40s and even into the 50mpg range if you drive carefully. Options such as air conditioning and Bluetooth are available, but probably won't be present on ex-fleet vans at this size.
If you don't need the space, our choice would be a Fiesta Van, preferably in Sport Van trim. An oddball option would be a Fiat Fiorino Adventure, which comes with a trick electric differential, a powerful 95hp engine and higher stance for occasional rough track use.
Best used small vans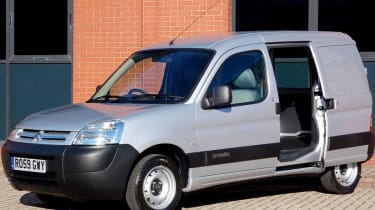 There is plenty of choice in this sector, with vans like Volkswagen's Caddy and Ford's Transit Connect going head to head with the Peugeot Partner and Citroen Berlingo. Renault's Kangoo is a popular choice too, and can now be had with a three-pointed star on the nose, in the shape of the Mercedes-Benz Citan. Less popular, but worth seeking out, is Fiat's Doblo Cargo, which for the last couple of years has also been available as a Vauxhall Combo. More left field still, is Nissan's NV200, which uses Renault engines but in quite a different body style.
All of these models bar the Nissan give you additional choices, as they come in a range of short and long wheelbase/body combinations, some also offering standard and high roof choices too.
This means that there are a wide range of load volumes and more importantly payloads available. In some cases, Fiat's Doblo for instance, that extends to a full 1 tonne, overlapping with the medium van sector and offering buyers the option to downsize and save on running costs without losing carrying capacity.
If you are going to be sitting behind the wheel, the Caddy and Connect are probably the best choice for the driver. If you can find one, you can also get a DSG automated gearbox in the Caddy, though it can prove an expensive choice if there are problems.
Best used medium panel vans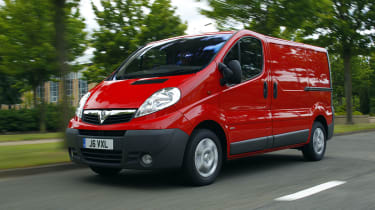 There is no shortage of used van choice here either, both in terms of manufacturers and in actual van sizes, weights and capacities.
Nominally called the 1 tonne sector, the mid-weight market covers shorter wheelbase Transits and more recently the Transit Custom. Volkswagen's Transporter, the Mercedes Vito, Renault's Trafic and Vauxhall's Vivaro are strong contenders while the Citroen Dispatch, Peugeot Expert and Fiat Scudo (again, basically the same van though engines differ) are worth a look. Toyota's Proace (a Peugeot Expert with a different badge) is another option.
Thanks to its market dominance in the UK, Transits are plentiful and you'll also find no shortage of Vivaros and Trafics. There's been some serious discounting of Vivaro in particular over the last couple of years, which should lead to some real bargains on the used market. Sport models also come with air conditioning.
Volkswagen Transporters tend to maintain very strong residual values as they are much prized by the adventure sports and surfing communities. Though less popular, and the only rear-wheel-drive model on the market, the Mercedes Vito is actually a great van to drive and the Dualiner version, with a second row of removable seats, makes a good dual use vehicle for work and leisure.
Best used large panel vans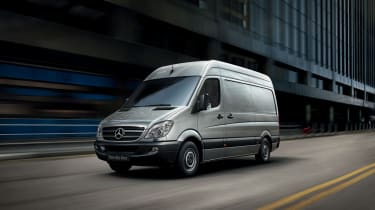 The heavy van market is by far the biggest sector of the UK LCV market, so there will be plenty of choice for used van buyers. All manufacturers offer vans up to 3.5 tonnes, with several going up to 4.5 or 5 tonnes GVW. If you want more than that, Iveco and Mercedes slug it out for the real heavyweights with Daily and Sprinter respectively, with the biggest Daily van topping out at 7 tonnes.
If you are looking for a small truck rather than a panel van, the choice is even wider, with Isuzu Truck, Fuso and Nissan offering a range of forward control light trucks, where you sit over the engine rather than behind it.
In the panel van sector Ford's Transit continues to dominate, with both front and rear drive models available. The Mercedes Sprinter runs it a close second however, despite being mainly rear drive, with an excellent all-wheel drive option for those looking to cross fields.
Renault, Vauxhall and Nissan share a van body in Master, Movano and NV400, and any of the three will make an excellent choice, with one of the best working cabs around. Likewise if you opt for a Volkswagen Crafter you'll find it almost identical inside to the Sprinter, though the VW does have different engines to the big Merc.
For our money? Mercedes' Sprinter takes a lot of beating in this class and, though many will have done big miles, it should have plenty of service left to give.
For a rundown of the best cheap van deals around right now visit our sister site Buyacar...