Audi launches free range boost for older e-tron 55 quattro models
The free software update unlocks an extra 12.4 miles from the e-tron 55 quattro's 95kWh battery pack by increasing its usable capacity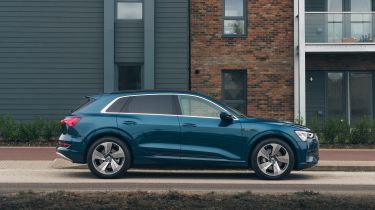 Audi has launched a free software update for the e-tron 55 quattro, which unlocks an extra 12.4 miles of range from the SUV's battery pack. The update is specifically designed for cars built between September 2018 (model year 2019) and November 2019 (model year 2020).
The software tweak can be installed at your local Audi dealership, and the company will even throw in a free health check for your car as part of the package. Audi says there are 1,655 vehicles in the UK that are eligible for the update.
As a result of the software tweak, the e-tron 55 quattro can now cover 276 miles on a charge. The update applies only to 55 models with the 95kWh battery, though, and not the e-tron 50 quattro, which has a smaller battery. However, it is available on e-tron 55 Sportback cars.
In addition to increasing the e-tron 55 quattro's maximum range, the software update also changes the way the car manages its electric motors. Now, under normal driving conditions, the EV is powered by the rear motor only. The front motor remains powered off until it's required for some extra performance or traction, which uses the battery more efficiently.
Audi's revisions also make the e-tron's cooling system a little more efficient, by reducing the flow rate for the fluids in the cooling system. The pumps aren't working as hard, which cuts energy consumption further and contributes towards the increased range.
Maximum charge rates of 150kW remain as before, so when hooked up to a rapid charger the car can reach 80% in just 30 minutes. Similarly, it takes just 10 minutes to add 110km (70 miles) to the range.
Now click here to check out our list of the best electric SUVs on sale now…