Best used cars to buy now 2020/2021
We pick the best used cars to buy in 18 categories and name our overall Used Car of the Year for 2020 in our Used Car Awards
It's hard to match the feeling of buying a brand new car, knowing you've specified its features, picked the options and chosen the colour, and that no one has driven your pride and joy before you. But you can also get a great feeling from saving some serious cash by buying a used car. If the car you really want was priced out of your budget when new, or you're after a specific spec that's no longer offered, a used car is the way to go.
With thousands of second hand cars on sale every day in the UK, whittling down your shortlist can be tough, and making sure you buy the best used car at the best possible price is even harder. Here you'll find our top picks for great-value second-hand cars in the 18 categories of our 2020 Used Car Awards, from economical small cars to luxury and sports models, and even used electric cars and hybrid cars. We name our best used car buy in each category and if you click through to the category pages you'll find a range of other alternatives that we rate highly too.
We've also chosen the Auto Express Used Car of the Year for 2020, the model that we feel represents the best mix of used car value, desirability and practicality on today's market. Whatever your requirements, whatever your requirements or budget, there should be a great used car in our selection that fits in with both. Click the links below to discover more about the best used cars on today's market...
Used Car Awards 2020: the winners
Used car buying advice 
No aspect of daily life was left unaffected when the UK was put into lockdown in March to help prevent the spread of Covid-19. With normality slowly returning, though, various restrictions are being lifted, and businesses that were previously closed are being allowed to start back up. This includes new and used car dealerships, which have re-opened, following strict guidelines on social distancing and cleanliness. As a result, small independent used car showrooms have opened alongside larger franchises. 
Buyers need to be sure that any cars they're viewing and test driving have been disinfected, and that the seller has put in place the necessary social-distancing measures to allow the buying process to proceed in a safe manner. With this in mind, we've had a look into how used car sales will work for the foreseeable future across various platforms and business types, as well as the potential risks.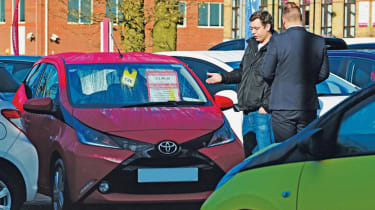 Franchised dealers
Car dealerships have spent weeks preparing for re-opening, with social-distancing measures being put in place at every stage of the buying process for new and used cars. For the latter, anti-virus measures have to go even further. The National Franchised Dealers Association (NFDA), which represents more than 4,500 franchised car dealerships, has issued advice to all of its members.
Coronavirus can survive for up to 72 hours on some surfaces, so all used cars received by dealers are being sanitised after anyone has been inside them, and kept locked to prevent prospective customers getting in without the knowledge of an employee.
Many franchised dealers are allowing test drives to be carried out unaccompanied, with some requiring a form of security to be left by the customer. If the customer decides to buy the car after the test drive, then the dealer will follow social-distancing measures when signing documents and handing over keys. If the customer decides not to buy the car, the dealership will sanitise and disinfect the vehicle again.
Sue Robinson, director of the NFDA, told Auto Express: "With showrooms re-opening across England, franchised retailers are taking extensive steps to ensure the safety of their customers when selling both new and used cars."
Independent retailers
A great many of the UK's used cars are sold not by large franchised dealers, but by smaller independent retailers. If you're buying a car from one of these businesses, you may need to be a bit more proactive in finding out what social-distancing measures the showroom has in place.
It's best to check a dealer's website to initially view the car you're interested in, then make an enquiry over the phone, because some sites only allow viewings by appointment.
If you're able to go to the showroom in person, this is where common sense comes into play. You should ask about the business' social-distance protocols and ensure that the car has been disinfected before you sit in it or take it for an unaccompanied test drive.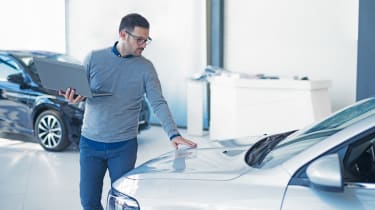 Buying used cars online
Coronavirus has led many automotive retailers to invest in online car sales. For firms that already offered a digital service before lockdown began, altering this to reduce contact as much as possible has been less of a challenge than for those operating on a purely physical basis.
Online retailer BuyaCar.co.uk – sister title of Auto Express – has measures that it aims to implement in the vast majority of its transactions. Prior to delivery, used cars sold via the platform will have their interiors – particularly high-contact areas such as the steering wheel, doors and gearlever – wiped down with antibacterial wipes. Anyone handling a vehicle will be required to wear gloves at all times.
Upon delivery, BuyaCar employees will keep two metres from the customer at all times, so there will be no in-car demonstrations at the point of handover, and no electronic signature will be required from the customer. BuyaCar is also distributing personal protective equipment to its delivery drivers, as well as auditing them for their own safety and that of their customers.
Buying privately
Private car sales are a whole other world. Individuals selling cars aren't subject to clear policies, and will be less well equipped for social distancing. Unaccompanied test drives, for example, won't be an option unless the buyer and seller know and trust each other. If you're interested in a car being sold privately by someone you know, you may be able to come to an arrangement to socially distance through the whole process. In most cases, though, the advice has to be to buy only from vendors that have the appropriate measures in place.
Find out if you should lease or buy a new car and visit our sister site Buyacar to put one of our 2020 Used Car Awards winners on your driveway. Happy bargain hunting!