Best Hot Hatch: Ford Focus ST
A fast Ford is back on top of the hot hatch pile, and having met the people behind the new Focus ST, we're not surprised.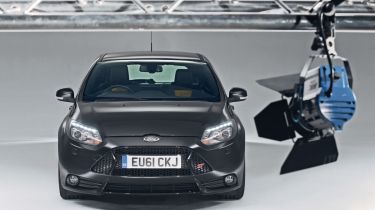 Why it won...
A fast Ford is back on top of the hot hatch pile, and having met the people behind the new Focus ST, we're not surprised.
Earlier this year, we were lucky enough to ride with the engineers who developed the eagerly anticipated new model, and you could see the childish look of delight in their eyes after taking it for a quick blast down the road.
We finally got a chance to find out just how good the ST is for ourselves in early June and it didn't disappoint, because the Focus has redefined what makes a great family hot hatch. It combines the fun and outright ability of models like the Renaultsport Megane 265 with the comfort and everyday usability of more grown-up alternatives such as the Volkswagen Golf GTI.
The switch from charismatic five-cylinder power to a four-cylinder EcoBoost engine was a bold move, but the decision has paid off, as the new 2.0-litre turbocharged engine produces 247bhp and is 20 per cent cleaner and more efficient than its predecessor. It blasts the Focus from 0-62mph in just 6.5 seconds, plus it provides a purposeful soundtrack which is just as capable of putting a smile on your face as the perfectly judged steering, responsive chassis and progressive brakes.
All Fords handle brilliantly, but the beautifully balanced ST shows just what the company's engineers are capable of when they let their hair down. And the best news? They're the same people responsible for the forthcoming Fiesta ST, which they reckon will be even better...
Our choice: ST-2
The mid-spec ST costs £23,495 and comes with most of the equipment you could ever need, yet it's still cheaper than even the most basic Volkswagen Golf GTI. So if you think the hot Ford looks like fantastic value for money, you're right... it is.
Commended
Renault Megane Renaultsport 265 Cup
If you like your hot hatches raw and uncomplicated, then the recently revised Megane is just the ticket. The uprated chassis serves up racing car responses, while the 261bhp turbocharged engine has explosive power delivery. A bone-jarring ride and compromised practicality hold the car back, but on the right road there's nothing to touch the racy Renault for hardcore driving thrills.
Suzuki Swift Sport
Small, affordable, fun and full of character; the Suzuki Swift Sport is like hot hatches used to be in days gone by. We love everything from its pumped up looks and racy cabin to its frenetic engine and snappy gearshift. The Sport makes you want to wring every last ounce of performance out of it, and that's the essence of a good hot hatch.