Jaguar E-Type: history of an icon
A brief history of the iconic Jaguar E-Type, 'the most beautiful car in the world'
The Jaguar E-Type was first revealed on 15 March 1961 in Geneva to huge excitement from the world's press. Sir William Lyons, the founder of Jaguar, realised that he had something very special on his hands and had a second car delivered overnight from Coventry to Switzerland in order to accommodate more test runs at the show.
• Lightweight Jaguar E-Type reborn in 2014
The E-Type was a revolutionary car in many ways but it was Malcolm Sayer's beautiful bodywork that set it apart from anything else on the road. With its faired-in headlamps, a long, sculpted nose and centred twin exhaust, there was nothing else like it and the car remains a unique proposition today. The E-Type is still considered by many to be one of the greatest car designs ever, with Enzo Ferrari famously describing it as "the most beautiful car in the world."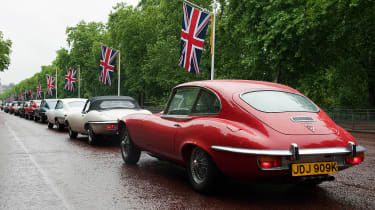 It wasn't just the looks that made the E-Type a revelation though: with a launch price of around £2,250 (about £38,000 in today's money), it was surprisingly affordable. Dig a little deeper into the technical details of the car and you'll find that it featured a monocoque construction, independent rear suspension and all-round disc brakes: all very advanced for the 1960s.
• Jaguar F-Type vs Jaguar E-Type
The Jaguar E-Type's 3.8-litre straight-six engine took part in five Le Mans victories for Jaguar in the 1950s (in the Jaguar C-Type and D-Type racers), and with 265bhp, it's no slouch even by today's standards. It was claimed that the car could reach 150mph, so for a time it was the fastest production car in the world.
The production numbers are equally impressive: the E-Type was in production for 14 years, selling over 70,000 units in that time. The Series 2 and 3 cars lost some of the original's purity, with a larger grille, wider wheelarches and bigger bumpers being added that distorted the looks, but there's no doubting the power of that hugely desirable E-Type badge that remained on the car.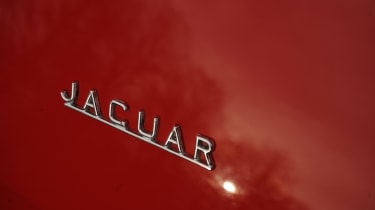 So what's it like to drive?
Back in 2011, the 50th anniversary of the E-Type's debut at Geneva, we headed to Coventry to drive one of the early Series 1 cars, built in 1963. Under the elegant bonnet is a 3.8-litre straight-six producing around 261bhp. It gives 0-62mph in around seven seconds, and top speed is a claimed 150mph – although few customer models could reach the magic figure.
Twist the ignition key, push the starter button and the engine bursts into life with a growl from the twin exhausts. On the move, you're reminded how far things have moved on in the past half century. There's no synchromesh on first and second gears, so a gentle touch is required to engage them, while the brakes need a much firmer push before anything happens.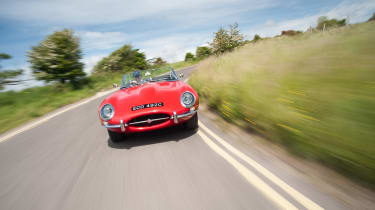 Yes, it feels old by today's standards, but the E-Type was cutting edge in the Sixties, with its monocoque construction, independent rear suspension and all-round disc brakes. In corners, it feels planted and responds adeptly to steering inputs, although there is a fair amount of body roll.
Partnership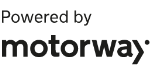 Need to sell your car?
Find your best offer from over 5,000+ dealers. It's that easy.
Still, the ride is extremely comfortable: the soft suspension helps the Jag glide over uneven road surfaces, while the thick-walled tyres iron out any small imperfections in the surface. Of course, the E-Type can't compete with today's finely honed models – but it's a measure of the firm's genius that for sheer driving pleasure, it's still up there with anything else on the road.
Jaguar XE launch special: more content...
• Launch special: new Jaguar XE • New Jaguar XE: full details• Jaguar launches the new XE• Jaguar XE SVR to get 489bhp supercharged V8• Best compact executive cars• Jaguar X-Type buyer's guide• Jaguar E-Type: history of an icon• Ian Callum Jaguar Mk2 to be built• Opinion: "The XE and Disco Sport are great. Shame one arrives with a hand tied behind its back"