Lexus GS F - best performance cars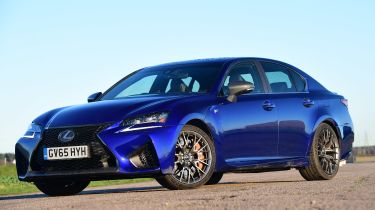 While it's a relatively new face in the performance car world, the Lexus GS F takes an old-school approach to muscle.
The Lexus has a 5.0-litre V8 shoehorned under its bonnet, and not just any old V8 either… it's normally aspirated, makes 471bhp and 530Nm, and likes to be revved, as peak torque doesn't arrive until 4,800rpm.
The GS F features a finely balanced rear wheel drive chassis for driving thrills, a clever rear differential that juggles torque between the rear wheels to improve agility and turn-in, and has track, slalom and expert driving modes. Equipped with an eight-speed automatic gearbox, the GS F will reach 168mph and dash off 0-62mph in 4.6 seconds, accompanied by a suitably scintillating soundtrack from that V8 motor.
It's grippy and poised on the road, if body roll, braking and steering feel aren't quite up with the best German rivals in the class. But no matter, because where the Lexus GS F truly excels is as a luxurious and impeccably built executive express. Thanks to high standard equipment levels, its sub-£70k price tag also makes the rapid Lexus a relative bargain compared to German rivals like the BMW M5 or Mercedes-AMG E63.
Top 10 best performance cars on sale now