Safest roadster/convertible: Mazda MX-5
Good-looking, great to drive and cheap - and now the MX-5 is rated Euro NCAP's safest convertible of 2015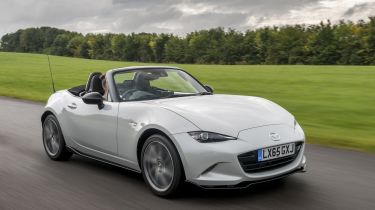 The Mazda MX-5 has been our favourite small roadster for a long time, and the latest generation is the best yet. Bucking the trend for cars to get bigger and bigger, the MX-5 is positively tiny, meaning it only needs a small engine and simple suspension to provide plenty of pace and a great drive.
A choice of 1.5-litre or 2.0-litre petrol engines are plenty to propel the featherweight body at a decent speed, while the rear-wheel-drive chassis is becoming rarer in the class - making the MX-5 great fun to drive.
The lightweight MX-5 posted a fantastic 93% score in the Pedestrian category, so it's just as safe for other road users as it is for the occupants. Not that the occupants should be worried, as the cosy interior includes enough safety kit to give scores of 84% and 80% in the Adult and Child Occupant categories, respectively.
It may be a tiny convertible car with a small power output, but the Mazda MX-5 is big on character and a great safety rating is another reason it should be on your shortlist.
Safest roadster/convertible - previous winners
• 2010-2014: No previous winners
Read the full Mazda MX-5 review here...