McLaren 600LT - best performance cars
If you were one of the very few who thought the McLaren 570S wasn't hardcore enough, meet the McLaren 600LT.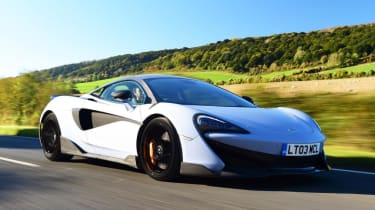 Lightened, stripped out, faster versions of performance cars are nothing new. You could argue they're often not particularly worth the trouble either as you lose a lot of expensive options and useability for a tiny increase in performance.
The McLaren 600LT (LT is short for 'Long Tail') is based on the extremely fast 570S, but with harder suspension, fixed-back racing seats and an almost non-existent options list, is the 600LT worth the £40,000 premium?
Well it's not just the stripped out interior and rougher ride that make the 600LT hardcore. The 3.8-litre, twin-turbo V8 has been re-worked to produce 592bhp, 30bhp more than the standard car. The 0-62mph time drops to 2.9 seconds while the top speed remains at 204mph.
It's on track where the 600LT really shines. The weight saving accounts for 100kg lost over the 570S and coupled with an extra 100kg in downforce from the additional splitter, rear diffuser and wing, the 600LT is quite simply stunning in the corners.
There's also the steering, which is among the best in any modern car. It's weighted nicely for cornering, giving you enough feedback to give you confidence your in inputs and it's light enough to easily use at slow speeds. The host of changes over the 570S mean the 600LT is one of the sweetest driver's cars out there.
Top 10 best performance cars 2019