Aston Martin Vantage - best performance cars
The Aston Martin Vantage is a supremely capable sports car - ready and able to take on the Porsche 911.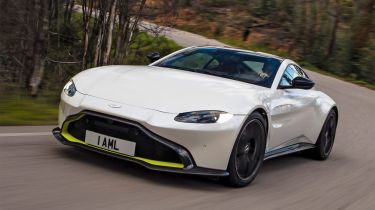 If you love performance cars, you'll understand how special the Aston Martin brand has become, and how capable the manufacturer is of producing awesome driving machines. The Vantage is a superb case in point - underneath its mean, muscular-looking exterior lurks a Mercedes-AMG-sourced 4.0-litre V8 engine, producing 503bhp and a whopping 685Nm of torque. 
Not surprisingly, the Vantage is able to crack 0-62mph in a rapid 3.6 seconds through an eight-speed ZF auto transmission, before running onto a top speed of 195mph.
Although lined-up to compete with the Porsche 911, the Vantage offers a sense of occasion that the German car can't match. Sure, the build quality and practicality might be a little better in the 911, but the British car's ability to entertain is second to none.
There's Sport, Sport+ and Track modes to explore, with the bespoke Pirelli P Zero rubber providing massive amounts of grip, and the brakes doing a great job of hauling the car back from high speeds.
Whichever way you want to drive the Vantage, it remains a seriously capable car. And fun, too - just as it should be.
Top 10 best performance cars 2021