McLaren 570S - best rear-wheel-drive cars
McLaren has used its F1 expertise to quickly gain a foothold in the supercar class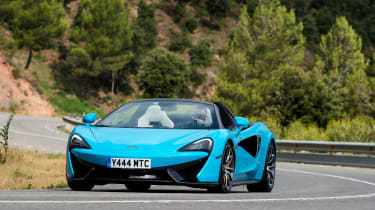 It's easy to forget that McLaren has only been building road cars in its current guise since 2011. The range has expanded and developed to include all kinds of sports, super and hypercars, and while the 570S is at the lower end of the range, it's arguably just as entertaining as its more expensive counterparts.
What sets the 570S apart from its rivals is its genuine everyday usability. It's a bit tricky to get in and out of, but once you're behind the wheel, there's good visibility all round, direct and communicative steering, a docile power delivery if you want it like that, and supreme comfort from suspension that has clearly been designed for the UK's poor road surfaces.
But turn the 570S's drive and engine controls to their most focused settings, and it transforms into a hugely entertaining and involving rear-wheel-drive machine. It's easy to extract the car's full performance, and the V8 twin-turbo engine delivers huge slabs of power. The chassis more than copes with it, though, and the McLaren will easily run rings around its rivals, even in open-top Spider guise.