McLaren 720S - world's fastest road cars
Constant evolution has resulted in the 720S, the most accessible supercar in our top 10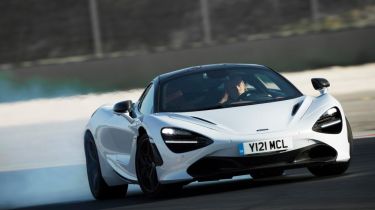 Top speed: 212mphPrice: £210,415
While the McLaren F1 set a new benchmark for maximum speeds that took over a decade to beat, that car has now gained such a reputation that you won't find one for any less than £10million today. Still, you can have that same motorsport heritage in a brand-new McLaren 720S for less than a quarter of a million quid.
With a 212mph top speed, the 720S is only 5mph slower than the P1 hypercar, and it doesn't use hybrid tech to achieve this, just a more powerful version of McLaren's twin-turbo V8 pushed out to 4.0-litres and making a healthy 710bhp.
Add in lightweight carbon fibre construction and adaptive suspension, and the 720S is one of the best-handling sports cars on sale, while changing settings turns it into a docile grand tourer if you need it to be. It really is the supercar that can do anything.
• What is the world's fastest car?
Top 10 fastest road cars 2019
6. Zenvo TS1 GT
7. Noble M600
9. Ford GT
10. McLaren 720S