Mini 5-Door - best superminis
The MINI remains as popular as ever and is one of the best superminis on sale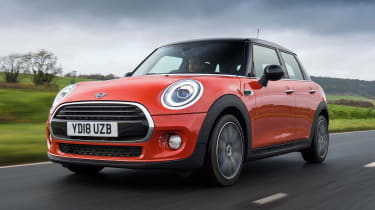 Prices: £16,895-£25,560Engines: 1.5 (101, 134bhp), 2.0-litre petrolTrims: One, Cooper, Cooper S/Classic, Sport, ExclusiveEconomy: 38.2-47.1mpgCO2: 119-150g/km0-62mph: 6.9-10.6 seconds
While purists won't love the idea of a five-door MINI, its place in the range means that supermini buyers can happily choose one of the most stylish cars on sale without completely disregarding practicality.
The MINI Cooper 5-Door is our choice; powered by a 1.5-litre three-cylinder with 134bhp, it serves up plenty of performance.
It's great fun to drive, too, thanks to a low driving position, predictable handling, buckets of grip, communicative steering and almost no body roll. The trade-off is a ride that isn't quite as plush as in some rivals, although the damping is still acceptable. The MINI 5-Door isn't quite as practical as the Ford Fiesta and SEAT Ibiza, but passenger space is generous (especially in the front); while the boot is a bit small, at 278 litres, it's well shaped and pretty deep.
MINI's infotainment system is among the best in this class, sharing much with parent company BMW's excellent set-ups. It's logical to use and adds to the premium feel in the baby Brit's stylish interior.
As you'd expect, there's plenty of scope for personalisation; the MINI is still the best choice here if you want your small car to stand out from the crowd.
Best superminis to buy now
1. Ford Fiesta
2. SEAT Ibiza
3. MINI 5-door
4. Skoda Fabia
5. Citroen C3
8. Kia Rio
9. Mazda 2
10. Toyota Yaris