Porsche Cayenne S review
Is switch to a V6 in 2014 Porsche Cayenne S downsizing taken too far?
Engine downsizing has done nothing to dent the searing pace of the Cayenne S. However, with the Macan offering a cheaper entry point into Porsche SUV ownership, and the Cayenne's standard spec remaining bare, we're left to conclude that this version is the wooden spoon in the company's 4x4 range. It's superb to drive, but far from the best value in its class.
As part of its facelift, the Porsche Cayenne S no longer emits a mighty eight-cylinder roar. But the absence of a fruity soundtrack is easier to swallow as the new car delivers better fuel consumption and more performance.
The S's new engine is a twin-turbo 3.6-litre V6 – the same range-topping engine that lives in the Cayenne's little brother, the Macan Turbo. It develops a massive 414bhp and 550Nm – incremental rises of 20bhp and 50Nm. You might have expected a monster torque hike from the addition of two turbos, but don't forget the Cayenne's also lost 1.2 litres of displacement.
With that goes a lot of burbly engine rumble, too, replaced by a raspier but still enjoyable V6 thrum. The rest of the numbers justify Porsche's efforts. Half-a-second has been sliced from the 0-62mph time – it now takes 5.4 seconds. The top speed is up a nominal 1mph to 161mph – impressive for such a huge machine. It's also marginally more aerodynamic than the Cayenne it replaces, thanks to new active grille shutters which close the front intakes at speed to cut drag.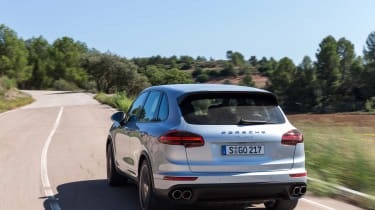 Of course, the reason for engine downsizing is efficiency. While the Cayenne S is still trounced by its Diesel and S E-Hybrid sisters for efficiency, it is better than before: the car now claims 29.7mpg economy, while CO2 emissions have been cut by 15g/km to 229g/km.
Because of the bi-turbo V6's intercoolers and ancillaries, losing two cylinders doesn't shed weight in the nose compared to the old V8 – it's claimed to be a 2,085kg vehicle. Still, the handling was originally the best in class, so there wasn't much that needed tweaking in that department. Porsche says it has retuned the chassis settings for sharper responses, but without a back-to-back test it's difficult to pin down any differences. The Cayenne is stillhugely capable on the open road.
Yet, crushingly competent as it is, we found ourselves questioning the need for this model. There will always be the hedonists who desire a Cayenne Turbo, but the £1,200 pricier Diesel S version is so fast that the Cayenne S struggles to distinguish itself. And thanks to the new Macan, it no longer has Porsche's SUV territory to itself.