Ferrari 488 Pista - best performance cars
The combination of road-car and race car in the Pista make for a fabulous, yet focused supercar.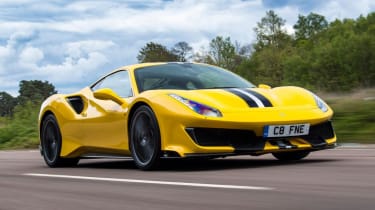 Many cars are described as 'race cars for the road', but Pista benefits from genuine parts taken from Ferrari's 488 Challenge and GTE race cars to make it a truly special supercar.
The 3.9-litre twin-turbo V8 engine in the Pista produces 710bhp - 50bhp more than the 488 GTB on which it's based. This leap in power comes from engine enhancements including lightweight titanium connecting rods for the pistons, carbon-fibre intakes and updated twin-scroll turbochargers.
The body has also had a major update as the Pista sheds 90kg from the already lightweight 488. More extensive use of carbon fibre and a lighter exhaust have aided the weight-loss. The Pista will reach an impressive 211mph top speed and can do a 0-62mph time of 2.85 seconds, generally faster than most of us could think.
You may think the Pista would be a handful on the limit but it's wonderfully poised and balanced. If you're too heavy-handed or heavy-footed with your inputs it can bite back (as a Ferrari should), but Ferrari's 'Dynamic Enhancer' traction control allows you to have fun without the fear of it suddenly all going wrong.
Top 10 best performance cars 2019