Ferrari F8 Tributo - best performance cars
The F8 Tributo's huge technical ability makes performance on the limit easier to reach and control.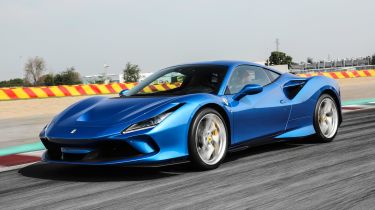 When Ferrari decides to produce a new model, you know it's going to be better in pretty much every way than the car that preceded it. So, with the F8 Tributo, it's probably best to get straight into the numbers.
As a replacement for the 488 GTB, the Tributo produces 710bhp – 49bhp more than the GTB – and a huge 770Nm of torque. It's 40kg lighter and 10% more aerodynamically efficient, able to create more downforce without unwanted extra drag.
There's unrelenting raw performance, with the Tributo able to race from 0-62mph in 2.9 seconds, and onto 124mph in only 7.8 seconds. Top speed is an impressive 211mph.
Ferrari has created a car that wants you to go faster, to explore the boundaries of its performance without feeling too intimidated. To help with this, the Italian manufacturer has included its Dynamic Enhancer Plus system to provide better brake balance and increase driver confidence on the limit. You can push the car hard, reassured that the electronics are working away to keep you from overcooking things.
All of this does nothing to spoil the experience of driving the F8 Tributo - it's still a beast, but with Ferrari's help, you might just be able to tame it.
Top 10 best performance cars 2021