Best fast family cars 2021
Having a family shouldn't limit you to a boring estate or people carrier - here's our top 10 fast family cars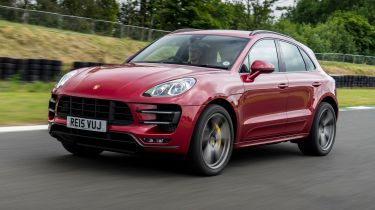 If circumstances dictate that you need to have a family car, that can spell havoc for your dreams of owning something speedier. Suddenly, power and handling don't matter as much as practicality, safety, and economy. Thoughts of blasts down twisty B-roads are replaced by thoughts of child seats and sippy cups, and so for lots of people, it means hanging up the keys to that sports car and shelling out for a boring family bus.
But some drivers refuse to accept that, and luckily for them, there's a wide range of family cars that manage to fuse commodious cabins with exciting handling and thrilling acceleration. 
Our choice of the 10 best brings together cars from all sectors of the market. At the lower end of the price bracket, you'll find hot hatches like the brilliant Ford Focus RS and Volkswagen Golf R, both of which offer up four-wheel drive security, practical five-door bodies and powerful engines which can carve up the average British B-road as quickly as anything out there.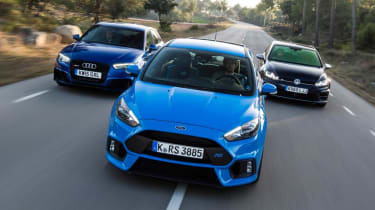 Step up into the realm of the super-saloon and your choices broaden into cars like the BMW M3 and Mercedes-AMG C63, which provide luxurious accommodation for business and pleasure alike. For drivers who like the added security and less challenging performance, we've got four-wheel-drivers like the Audi RS6 Avant and the Porsche Macan Turbo. We've even picked the electric Tesla Model S P90D for drivers who like to present a more eco-friendly image, and the Alpina D3 for drivers who must have a diesel.
So if you don't want family car compromises to spoil your fun, have a look through our top 10 and see if there's a fast family car that's right for you.
Click on the links below to read more about each of our choices, or take a look at the fastest accelerating cars in the world.
Best fast family cars 2020