Best company cars under £15,000
Here are the best company cars for less than £15,000
Skoda Citigo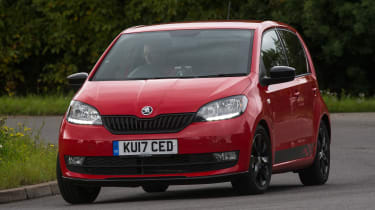 Model: Skoda Citigo 1.0 60 SE L Greentech 5drPrice: £11,060Engine/power: 1.0-litre 3cyl/59bhp CO2/BiK band: 96g/km/23 per cent0-62mph/top speed: 14.4 secs/100mphMonthly BiK Bill high rate: £83Monthly BiK Bill low rate: £42
Regardless of price point, the Skoda Citigo is brilliant value. And when you consider monthly company car tax bills, you'll see this small but mature urban runaround is available for an incredibly affordable sum, thanks to its relatively low P11D price in 1.0 60 SE L trim allied to low 96g/km CO2 emissions.
While 59bhp might not sound a lot, the Skoda doesn't weigh all that much, so performance is more than acceptable. Even motorway trips are fine, given the car's relatively refined road manners. This engine also has as much torque as the more powerful 74bhp version.
Despite its modest dimensions, the Citigo is a triumph of packaging. We recommend the more practical five-door model because it allows easier access to what is a roomy interior for a city car, while the smartphone integration that gives you sat-nav through your device is a great way of incorporating advanced tech into the car without hiking the price.
Dacia Duster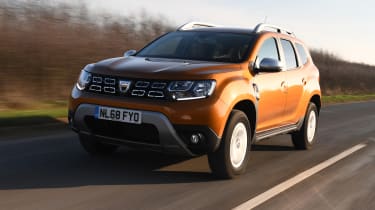 Model: Dacia Duster SCe 115 Comfort 4x2Price: £13,395Engine/power: 1.6-litre 4 cyl/113bhpCO2/BiK band: 149g/km/33 per cent0-62mph/top speed: 11.9 secs/107mphMonthly BiK Bill high rate: £145Monthly BiK Bill low rate: £72
A round of updates last year has only improved the Dacia Duster. The £15,000 price cap in this category means most choices are city cars or superminis, but the Duster is a family-sized SUV that offers practicality and relatively strong levels of technology.
The 113bhp 1.6-litre engine isn't great, because it emits 149g/km of CO2, but this two-wheel-drive variant is more efficient than the equivalent 4WD model. So with BiK costs calculated using the P11D price and the car's emissions, the Dacia is so cheap that it still works out as one of the more affordable vehicles for a business user.
This gives you Comfort trim, which features sat-nav, cruise control, air-con, parking sensors and a reversing camera. The cabin is big enough for a family, helped by the 411-litre boot, and the driving experience is better than before.
Kia Picanto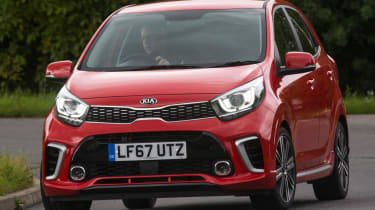 Model: Kia Picanto 1.0 WavePrice: £11,895Engine/power: 1.0-litre 3cyl/66bhpCO2/BiK band: 115g/km/27 per cent 0-62mph/top speed: 13.8 secs/100mphMonthly BiK Bill high rate: £105Monthly BiK Bill low rate: £53
Kia vastly improved its Skoda Citigo rival with the third-generation Picanto, and the new Wave trim creates a solid spec for business users after an affordable small car.
This mid-range model gets sat-nav, plus Android Auto and Apple CarPlay as part of its seven-inch infotainment system. There's also air-con, a reversing camera and wireless charging. So a monthly BiK bill of £53 gives you access to plenty of car for not much cash.
The 1.0-litre engine delivers 66bhp and the gearbox is sweet, as are the steering, suspension and refinement. As a result, there are few challenges the Picanto won't rise to, proving a high-quality company car can be yours whatever your budget. It's not quite as spacious or as practical as the Citigo, but the little Kia is still a brilliant buy.
Hyundai i10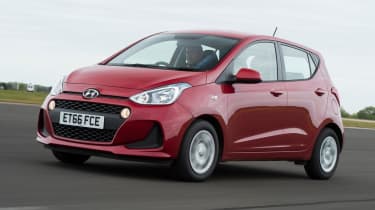 Model: Hyundai i10 1.0 PremiumPrice: £12,325Engine/power: 1.0-litre 3cyl/66bhpCO2/BiK band: 117g/km/27 per cent 0-62mph/top speed: 14.7secs/ 97mphMonthly BiK Bill high rate: £109Monthly BiK Bill low rate: £55
A few years ago the Hyundai i10 stood at the top of the city car class. While newer and more talented rivals have joined that group, the Korean city car is still a great buy – mainly because it's so cheap and incredibly versatile.
Even in Premium trim, the i10 won't leave you with a BiK bill that will break the bank, and you get lots of kit, including a seven-inch touchscreen unit with sat-nav and the latest connectivity. The 1.0 petrol engine is fine, too, even if it can occasionally feel a little lethargic.
Despite this relatively high-spec trim level, the i10 is so well priced that it's still an affordable company car. While you do have to sacrifice driving dynamics and performance a little, you won't scrimp on practicality or kit, which are big considerations in a car of this size.
Skoda Fabia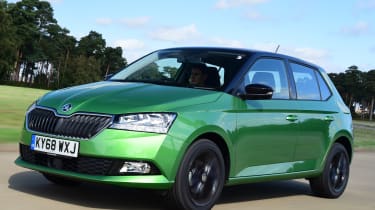 Model: Skoda Fabia 1.0 TSI 95 SPrice: £13,865Engine/power: 1.0-litre 3cyl/94bhpCO2/BiK band: 106g/km/25 per cent0-62mph/top speed: 10.8 secs/114mphMonthly BiK Bill high rate: £114Monthly BiK Bill low rate: £57
Having two Skodas in this bracket highlights what good value the brand's cars are. And while the Fabia might not be the newest supermini, it's a stalwart in this list, thanks to its blend of space and practicality with plenty of kit, affordable prices and – because of its new engine – strong performance allied to low CO2 emissions.
The 94bhp 1.0-litre turbo motor was added to the Fabia line-up last year and gave the car a new lease of life, with plenty of torque that makes it nice and flexible, and ensures motorway journeys are easy and refined.
The Fabia's infotainment system isn't one of the very best, and our chosen S spec only gives you a basic level of kit. However, this helps to keep the price below our £15,000 cap for this category, and that translates into monthly BiK bills of just £57 for lower-rate taxpayers.
Five doors, a roomy interior and a 330-litre boot mean the Fabia is rational rather than racy transport, but it's also affordable and dependable – as our Driver Power satisfaction survey ratings show. Skoda routinely finishes at the sharp end of the table, and the Fabia was voted the 55th best car to live with, which is a strong ranking.
Suzuki Ignis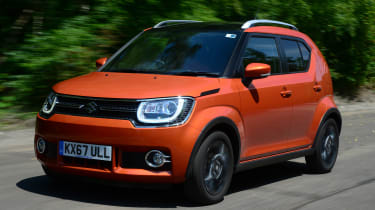 Model: Suzuki Ignis 1.2 Dualjet SHVS SZ5Price: £14,849Engine/power: 1.2-litre 4cyl/89bhpCO2/BiK band: 97g/km/23 per cent0-62mph/top speed: 11.8 secs/106mphMonthly BiK Bill high rate: £113Monthly BiK Bill low rate: £56
There aren't many models with an electrified drivetrain for less than £15,000. So if you want an alternative-fuel vehicle, this Suzuki Ignis is your best option.
It's a mild hybrid with a small starter/generator that acts on a conventional 1.2-litre petrol engine. And as this SUV-cum-city car isn't too pricey, lower-rate earners will stump up just £56 per month in tax to the Treasury.
The hybrid set-up only comes in SZ5 trim so you get a decent level of equipment, including a seven-inch screen with sat-nav, Apple CarPlay and Android Auto, Bluetooth and a rear-view camera. However, the four-seat Ignis is small inside and its 204-litre boot is less than half the size of the Duster's for a similar price.
 Best company cars by price bracket