Toyota Prius hybrid no longer exempt from London Congestion Charge
A change in the way CO2 levels are calculated means new Toyota Prius owners will have to pay the London Congestion Charge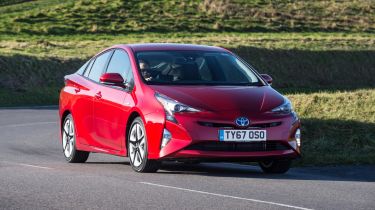 New buyers of the Toyota Prius hybrid will no longer be exempt from the London Congestion Charge, after a change in the way its carbon dioxide (CO2) levels are measured moved its official output above the 75g/km exemption threshold.
While current Prius owners won't be affected by the change, anyone who purchased a new Prius from 1 February 2018 will find their car judged against updated criteria, meaning they will have having to pay the capital's £11.50 Congestion Charge.
The Prius used to officially produce 70g/km of CO2 when running on 15-inch wheels. This made it a favourite of private hire owners, as they could drive into London while escaping the Congestion Charge. But that figure has now increased to 78g/km, while CO2 levels for a Prius running on 17-inch alloys have increased from 76 to 82g/km.
The rise has come because Toyota is switching the measure it uses to gauge the Prius' CO2 levels from NEDC to NEDC-equivalent; the latter test was designed to precede the switch from NEDC to new WLTP testing criteria in 2019, and is considered a halfway house between the two measures.
Vehicle excise duty, commonly known as road tax, has also increased for those buying a new Prius: the first-year fee for models with 15-inch alloy wheels has increased from £15 to £90. Perhaps more significantly, Benefit-in-Kind (BiK) rates for business users of the same car have risen from 13 to 17 per cent.
While the Prius Plug-In is also likely to be measured against NEDC-equivalent criteria soon, its lower CO2 emissions of 22g/km (under outgoing NEDC rules) make it highly unlikely its emissions will rise above the 75g/km Congestion Charge exemption threshold.
Read our round-up of the best company cars to buy now...