Driver Power 2015: results revealed, Lexus IS wins
Driver Power results revealed with the Lexus IS crowned 2015 champ at the top of the customer satisfaction charts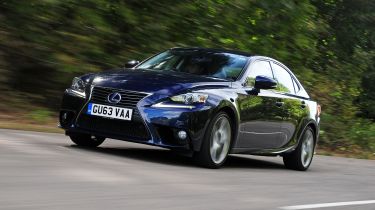 The Lexus IS has been crowned Driver Power 2015 champion, knocking Skoda off the top step for the first time in four years.
The 3rd generation version of the IS compact executive model scored a satisfaction rating of 93.96 per cent, ending the Skoda Yeti's three-year stint as the favourite car for UK motorists.
• Driver Power 2015: where did your car finish?
Auto Express polled 61,113 owners in Driver Power 2015 - the biggest ever survey - to find out how drivers rate their cars in categories including reliability, running costs, practicality and in-car tech.
The Lexus IS polled number one overall and also won the ease of driving category. Previous champ - the Skoda Yeti - finished second while the Hyundai i10 rounded off the podium.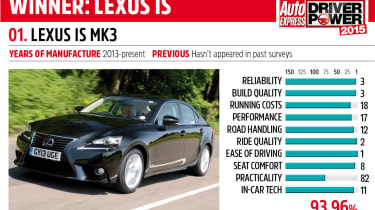 There was British success in our Driver Power rankings, too. The Jaguar XJ, MINI Hatch, Nissan Leaf and MG3 are all built in Britain and finished in the top 10.
And there is growing satisfaction among owners as the overall scores for the top five would have been good enough to win the title in 2014.
Elsewhere, the SEAT Leon was ranked as best compact family car while the Skoda Superb - our 2011 winner - held onto the best family car title. The Skoda Roomster was best MPV and the BMW 4 Series landed the best sports car prize.
The Audi A5 Sportback was the most improved car in Driver Power 2015 as it moved up 80 places from 106th to 26th. The SEAT Leon, however, fell the most - down from 65th to 192nd.
Toyota was the most popular manufacturer with 13 models in the Top 200 while the biggest-selling car in the UK - the Ford Fiesta - finished 52nd.
Driver Power 2015: top 10 best cars to own
1. Lexus IS Mk3
2. Skoda Yeti
3. Hyundai i10 Mk2
4. SEAT Leon Mk3
5. Renault ZOE
6. Lexus NX
7. Jaguar XJ Mk4
8. Nissan Leaf
9. MINI Mk3
10. MG3
Get the full results from the 2015 Driver Power survey here...