MINI vs MINI
MINI Traveller V MINI Clubman Cooper S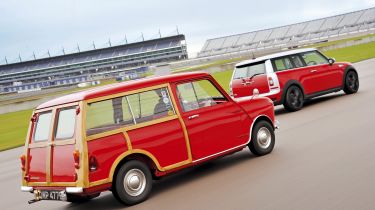 THE question of whether the new MINI can be compared to the original has been debated many times. However, just as the flames of controversy were beginning to die down, BMW threw a few gallons of unleaded on to the fire with the release of the Clubman.
Having already upset the purists by mixing up historical names (the estates were originally called Traveller and Countryman, not Clubman), has MINI gone a step too far with its estate?
Launched in 1961, the Morris Mini Traveller (and its sister car, the Austin Mini Countryman) was introduced in an effort to broaden the Mini's customer base. The British Motor Corporation was also keen on lifting production numbers up to a point where it could begin to see a return on its investment.
The Traveller is an exquisite piece of design. Our version – a mint 1967 model owned my Mini fanatic Boyce Wheal from Stourport on Severn, Worcestershire – displays why the original stirs up such strong emotions. The packaging is also stunning. Not only is there room for a six-footer behind the wheel, there's plenty of space in the back, too.
Despite being bigger, faster and better kitted out than its predecessor, the new version demonstrates that recreating the past is sometimes trickier than doing something new. Thanks to the legislation surrounding car design these days, features such as the Clubman's rear doors – which incorporate cut-outs to allow the tail-lights to be seen at all times – are far more complex pieces of engineering than they needed to be in the Traveller's day.
There's one comparison the original will never win, though. The Mini didn't return a penny in profit for its maker in 40 years. The new MINI, on the other hand, is one of the most profitable small cars in the business. Had BMC got its sums right, who knows what the British motor industry would look like now…
Facts and figures
MINI Traveller / MINI Clubman Cooper S
Price new: £635 (1967) / £16,860Engine: 848cc 4cyl / 1,598cc 4cylTransmission: Four-speed manual, front-wheel drive / Six-speed front-wheel drivePower: 34bhp / 175bhpLength/width/height: 3,299/1,410/1,359mm / 3,958/1,683/1,432mm