Citroen C3 - best superminis
Funky looking Citroen C3 supermini has plenty of space and low running costs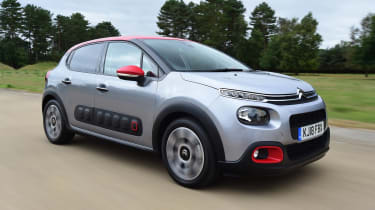 Prices: £12,150-£17,540Engines: 1.2 petrol (67, 81, 108bhp); 1.5 dieselTrims: Touch, Feel, Flair, Feel Nav Edition, Flair Nav Edition, OriginsEconomy: 39.1-67mpgCO2: 90-120g/km0-62mph: 9.4-14.7 secs
The Citroen C3 follows a similar recipe to the C4 Cactus, offering SUV-like styling and a focus on comfort and practicality. There's lots of scope for personalisation, too, so it's a good choice for those wanting to stand out.
Power comes from a selection of small petrol or diesel engines, each offering a great trade-off between economy and keen performance. The more potent turbo petrols and diesels are fine all-rounders; our pick is the eager-yet-frugal 1.2 PureTech 110 petrol.
The C3 is the perfect tonic to the sportier options on this list; it's designed to be easy to drive and comfortable instead of thrilling. Squishy seats, compliant suspension and plenty of space make the car pleasing to own. Elsewhere, build quality is great and there's a decent-sized boot.
Best superminis to buy now