Watchdog: Fiesta alloys
Ford Fiesta owners complain their alloys are too weak for UK roads. But what does Ford say?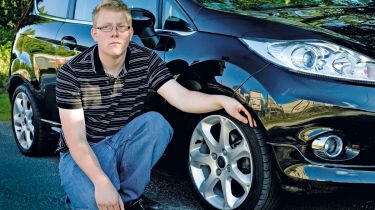 Are the alloy wheels on Ford Fiestas too weak for Britain's roads? One Auto Express reader thinks they are – and there are plenty of angry Fiesta owners on various online forums who agree.
An alloy on Anthony Lloyd's 2010 Titanium TDCi model buckled after just 10 months of ownership. Trowbridge Ford told Anthony, from Westbury, Wiltshire, that it wasn't covered under Ford's one-year Wear and Tear warranty, arguing that the damage was down to his driving style.
He paid £150 to replace it – and was then dismayed to find a second and then a third wheel starting to buckle, too. Ford forums showed this was a common problem with the Fiesta's wheels, but the company refuses to help.
Anthony moaned: "The reason I went for a Ford was I expected reliability. I was a student at the time and I didn't have money spare for problems. I now worry when I'm driving long distances that a wheel will buckle further, which could be dangerous."
Ford didn't back down when we called to complain, either. Its spokeswoman did admit "complaints relating to alloy wheel damage are not unusual in the UK", adding: "There have been some cases where Ford has contributed to repair costs as a gesture of goodwill."
However, it believed Anthony's alloys had buckled as a result of impact damage and was unwilling to help him out.
Gripes logged at fordownersclub.com/forums reveal endless issues with Fiesta alloys, though. User b1g_dav3 said: "A large number of us are having hassle with our alloys buckling." And JWSturner added: "I have 17-inch Street Pack alloys and all four buckled."
The RAC's legal advice team said that unhappy Fiesta customers have two potential avenues of redress. "Both are reliant upon proving that the vehicle was defective at the point of sale," explained a spokesman.
Owners may have a claim against the dealer under the Sale of Goods Act if they can prove the car was not fit for purpose and of satisfactory quality at the time of sale. But they'll also need to prove that problems weren't caused by wear and tear, misuse or accidental damage.
Alternatively, owners might take independent advice in respect of the product and what remedies may be available to them. At the very least the owner would need to establish that the manufacturer had been negligent in manufacturing the vehicle and they will need expert evidence to show that the fault was an inherent manufacturing defect.
Anthony's case: At-a-glance
The problemThe alloy wheels on reader Anthony's Fiesta keep buckling – and he's not the only one, according to online forums. But Ford doesn't want to know.
Ford's responseWhile there've been a number of cases of problems with alloys, Ford would not help Anthony, arguing his wheels had been damaged as a result of impact.
Legal adviceIf you think your car is faulty, you need expert evidence to prove a manufacturing defect and you'll also need to prove the maker was negligent in manufacturing the vehicle.
Our verdictWith a wear and tear part like alloys, damage could always be down to the actions of the owner. But with this many complaints, Ford would do well to reassess the robustness of its alloys.
Do you have a motoring problem that needs investigating? We're here to help… E-mail mail@autoexpress.co.uk or Tweet us @AutoExpress.