Ford Mustang 2015: 12-month waiting list, prices and specs
Ford's Mustang coupe and convertible start at £28,995 for autumn deliveries but there's a 12-month waiting list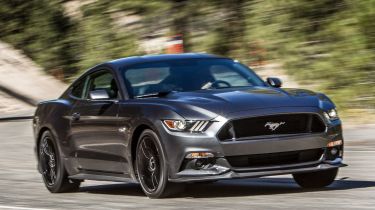 UK buyers who order a Ford Mustang now face a wait of a year for delivery. The British-bound right-hand-drive muscle car, due on our shores later this year, already has a lengthy waiting list following unprecedented interest from buyers.
And a spokesman for Ford confirmed that British customers keen to get their hands on the 2.3-litre or 5.0-litre V8 coupe will have to be patient – possibly having to wait until mid 2016. "Order one now and you will have to wait 12 months," the spokesman said.
With 1,800 Mustang UK sales projected for a full year, the delivery time suggests Ford already has that number of UK buyers waiting in the wings. The car will be built at Ford's Flat Rock assembly plant in Michigan.
Ford Mustang: prices and specs
Starting from £28,995, the 2015 Ford Mustang seriously undercuts conventional rivals such as the equivalent BMW 4 Series and Audi A5. The 5.0-litre V8 model costs from £32,995, another reasonable figure considering the performance on offer.
Over 50 years after the first generation Mustang was produced, 2015 is the first time buyers in the UK can officially specify and order one. But that's not the biggest change for the American muscle car: Ford has also installed a four-cylinder petrol engine to win favour with fuel-conscious Europeans.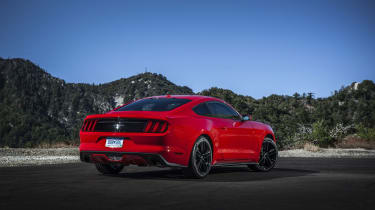 Kicking off the range, the 310bhp 2.3-litre EcoBoost engine offers a 0-60mph time of around 5.5 seconds with a six-speed manual transmission. A six-speed auto box adds £1,500 to the price, while the convertible starts at £32,995.
The 412bhp 5.0-litre V8 coupe (with the six-speed manual) drops that 0-60mph time to around 4.5 seconds and kicks off at £32,995, while the costliest model in the range (the V8 convertible automatic) is £38,495.
Standard exterior equipment across the Mustang range includes 19-inch alloy wheels, a performance brake package, xenon headlamps with LED tail-lights and a rear diffuser. Inside there is dual-zone climate control, a nine-speaker sound system and an eight-inch colour touchscreen with SYNC 2 voice control.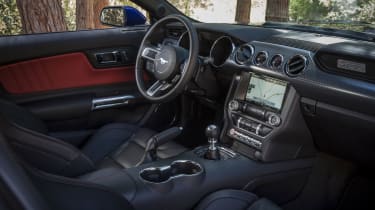 Climate-controlled leather seats and Lustre Nickel alloys are optional, and there is a choice of 10 exterior colours. Ford previously reported that first shipments of the Mustang will be heading to Asia, while the first UK buyers on that 12-month waiting list will have their cars delivered in the autumn. 
Now read all about the ultimate 2015 Mustang, the 618bhp Shelby GT...