"The Honda Jazz Crosstar surprises and bewilders in equal measure"
Honda's new Jazz gets a crossover version called Crosstar and John McIlroy cannot make head nor tail of it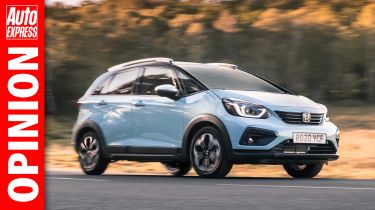 Last week I attended the official launch of the new Honda Jazz - and its freshly introduced sibling, the Honda Jazz Crosstar. You can read the reviews of both of them right now on autoexpress.co.uk.
Since you're here, though, the Crosstar has some body cladding, a raised ride height, roof rails and a few other trinkets. And for this, Honda expects you to pay more than £2,000 more than you would for a regular Jazz EX, complete with the same trick hybrid powertrain.
Now, you'd understand this if the Crosstar - which is a bit longer than the regular Jazz - offered an extra 50 litres of boot space or more rear legroom. But in fact, its cabin accommodation is basically the same and, wait for it, the boot is actually smaller because there's a subwoofer in there.
I drove these cars for half a day each and while I could see lots of reasons why someone would buy a Jazz - although probably not the range-topping edition that we were handed to test - I came away utterly confused by the Crosstar. Not for the first time, Honda has surprised and bewildered me in equal measure.
The Jazz's regular customer base tends to be, well, those of advancing years. Perhaps they want the raised ride height to make it a little easier to get in and out? I could see why that would make sense. And yet do they really have need of an upgraded stereo system, with the aforementioned subwoofer, to listen to Gardeners' Question Time?
The Crosstar's oddest spec quirk is the fact that while it does away with the heated steering wheel that comes as standard on regular Jazz EX editions, it does get water-repellent seat fabric. I'm sure that in the depths of some internal Honda marketing presentation there's a pic of a young couple leaping into their Crosstar after some early-morning surfing. Active lifestyles, and all that. But the people who might actually buy it? I'm not convinced.
Truth is, the Crosstar is precisely the sort of vehicle that thrives on finance deals - offering the appeal of something slightly different, with a comprehensive specification, for a premium that will undoubtedly boil down to a few pounds per week over a three-year contract.
And that is why it won't surprise me in the slightest if, now that I've said all of this, Honda is able to present statistics in 12 months' time to show how the Crosstar actually accounts for one in two Jazz models being sold in the UK. It really could be one of those cars that makes no sense - until you look at the monthlies.
What do you think of the Honda Jazz Crosstar? Let us know in the comments section...