Jaguar F-Type - best convertibles
Front-engined, rear-drive roadster harks back to the classic E-Type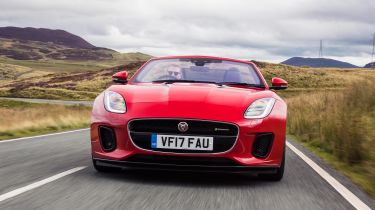 The F-Type Coupe may win in the style stakes, but the soft-top F-Type is still one of the best-looking cars on the road. Powered by a choice of two supercharged 3.0-litre V6 engines, a 5.0-litre V8 or a smaller 2.0-litre four-pot, the Jag feels fast and sounds fantastic. The roof folds away quickly and, with the wind deflector in place, you can quite happily take on a motorway journey with the roof down. You'll get to enjoy more of that intoxicating exhaust note, too.
The F-Type has a modern design, and the fabric hood is incorporated nicely into this, folding smartly away in just twelve seconds. As well as this, all models come with a twin exit exhaust and alloy wheels, as well as a sporty cabin with a leather trim and a layout orientated around the driver.
As a rear-wheel drive car with 50:50 weight distribution, the F-type feels very agile and the steering is accurate too. 3.0-litre V6 models can reach 0-62mph in well under six seconds, and both the V6 and V8 S models get adaptive dampers, plus an active exhaust system that makes the F-Type sound fantastic. The flagship SVR model is obnoxiously loud, but has the performance to match.
As to be expected with the F-Type, practicality isn't at the forefront - cargo space only just exceeds 200 litres, while boot comes in an awkward shape. And if you opt for the spare wheel, the boot is rendered almost unusable. On the bright side, boot size isn't affected when the roof is down, unlike some other convertibles.
Best convertible cars 2018