"Pay £1,000 a month and a McLaren is yours. Not cheap, but not expensive, either"
Mike Rutherford looks at the monthly cost of owning a McLaren, and it's not as expensive as you might think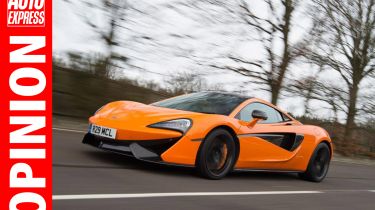 Are you and your partner earning above-average salaries with annual bonuses on top? Enjoying a little extra income from investments? Living mortgage-free? Becoming wealthier still now the kids have become self-sufficient and no longer rely on the bank of mum and dad to pay education and housing bills?
Can't say any of the above applies to me. But countless couples or individuals – some of them dear friends of mine – enjoy such levels of financial security and comfort. Even after paying the bills, their disposable income can run into hundreds or thousands of pounds a week. It's a nice problem to have.
When I'm forced to pay around £60 for 24 hours' parking in central London, a rush hour train fare, half an hour of garage labour or a fixed penalty notice for overrunning my time at a motorway service area, I'm not a happy camper. For many other petrolheads, this level of expenditure is nowt.
These are the men and women who can now afford to drive a proper supercar – one that boasts a McLaren badge, a 'crafted in England' plaque, a Formula One heritage and more. Much, much more. Honest.
Pay a not unreasonable £1,000 a month and three years/30,000 miles behind the wheel of a McLaren 540C is yours. There must be a catch, I hear you say. And there is – £35k is needed as a down payment. But still, to drive that McLaren supercar every day for 36 months you'll be paying the Woking firm a total of 'just' £65 a day. That ain't cheap. But, in view of the quality of the world-beating product (its sister car, the 570S, is the reigning Auto Express Performance Car of the Year, and it's also a World Car Awards nominee this year), the 540C is not expensive, either.      
McLarens speak for themselves when it comes to design, presence, and sheer desirability. Less obvious is the fact they are (sat-nav/sound systems aside) surprisingly simple to drive. Easy? No. Manageable? Absobloominlutely. If you're a greater believer in driver feel, intuition and experience than you are in handbooks, instruction manuals and pep talks, you'll have few problems behind the wheel of the 540C.
A Big Mac costs £2.69 to buy. An even bigger McLaren costs £2.75 (per hour) to lease. I have much experience of both products – and can confirm the former offers considerably less enjoyment and value than the latter. I'm lovin' it – and you will, too. 
Would you buy a McLaren for £1,000 a month? Let us know below...