'New Range Rover is a thing of beauty, a masterful piece of design'
Steve Fowler is eager to test out the latest Range Rover after falling for its looks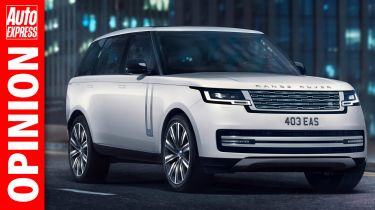 Something very strange happened a few weeks ago. I was invited to Land Rover HQ to see the new Range Rover and there, sitting outside the design offices, was a current model – still looking as regal as it ever has.
Then the new Range Rover rolled out and parked right next to the current-generation car. In an instant, the model that I had loved for so long suddenly looked old and out of date. I'd found a new love.
Now, I know that when you take a look at our pictures of the new Range Rover, you'll probably think it's a gentle evolution. But in the metal it really is a thing of beauty, a masterful piece of design that is the living embodiment of Land Rover Chief Creative Officer Gerry McGovern's vision of reductionism. "It's free from over-ornamentation," he told me – and he's right.
Traditional Range Rover design cues are present, like the floating roof and continuous belt line. But the smooth surfaces, tight panel gaps and flush glazing lift the level of class – just as well, as the prices have been lifted, too.
"Customers told us not to change it, just to make it better," said McGovern, reiterating his view of a luxury product as: "You might not need it, but you want it."
Inside you can now get seven seats – listening to customers – while the minimalistic theme continues. "This is about restraint of design, not Saturday Night Fever," said McGovern. "There's a level of restraint inside that's difficult to do – some luxury cars have so much visual noise, but not here."
My view of the interior is slightly less positive than the exterior. Sure, it's beautifully crafted, but where Mercedes has gone overboard with the tech on the latest S-Class, I think Land Rover has underplayed things on the Range Rover. It's not lacking in features, but these days I'd expect a bigger touchscreen, for example. As you'll read, though, the engineering story is just as intriguing as the design one. We get to drive it soon and I can't wait.
What does the new Range Rover have to beat? Here are the best luxury SUVs on sale...