Peugeot 2008 - best crossovers
The 2008 shares much with the Citroen C4 Cactus, but is a far more upmarket model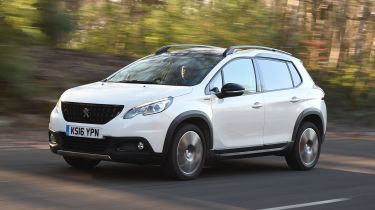 The small crossover class has exploded in recent years, and the Peugeot 2008 is one of the leading lights in the class. While it shares its running gear with the Citroen C4 Cactus, it is packaged very differently, and has a more upmarket feel than its sibling.
Power comes from a range of ultra-efficient petrol and diesel engines, and there's space in the cabin for five at a stretch. Don't be fooled by the Matra Rancho-style kick in the window line on the outside - there's no extra headroom in the back, although passengers won't be complaining.
Build quality is good, although drivers will need to try the driving position before buying, because not everybody can get on with the small, low-set steering wheel, as it can obscure the dials.
A recent facelift kept the 2008 competitive in the small crossover class, but there's a new wave of models coming in the next 12 months, so the Peugeot may not be in our top 10 for long...